Wooden Camera Unified DSLR Cage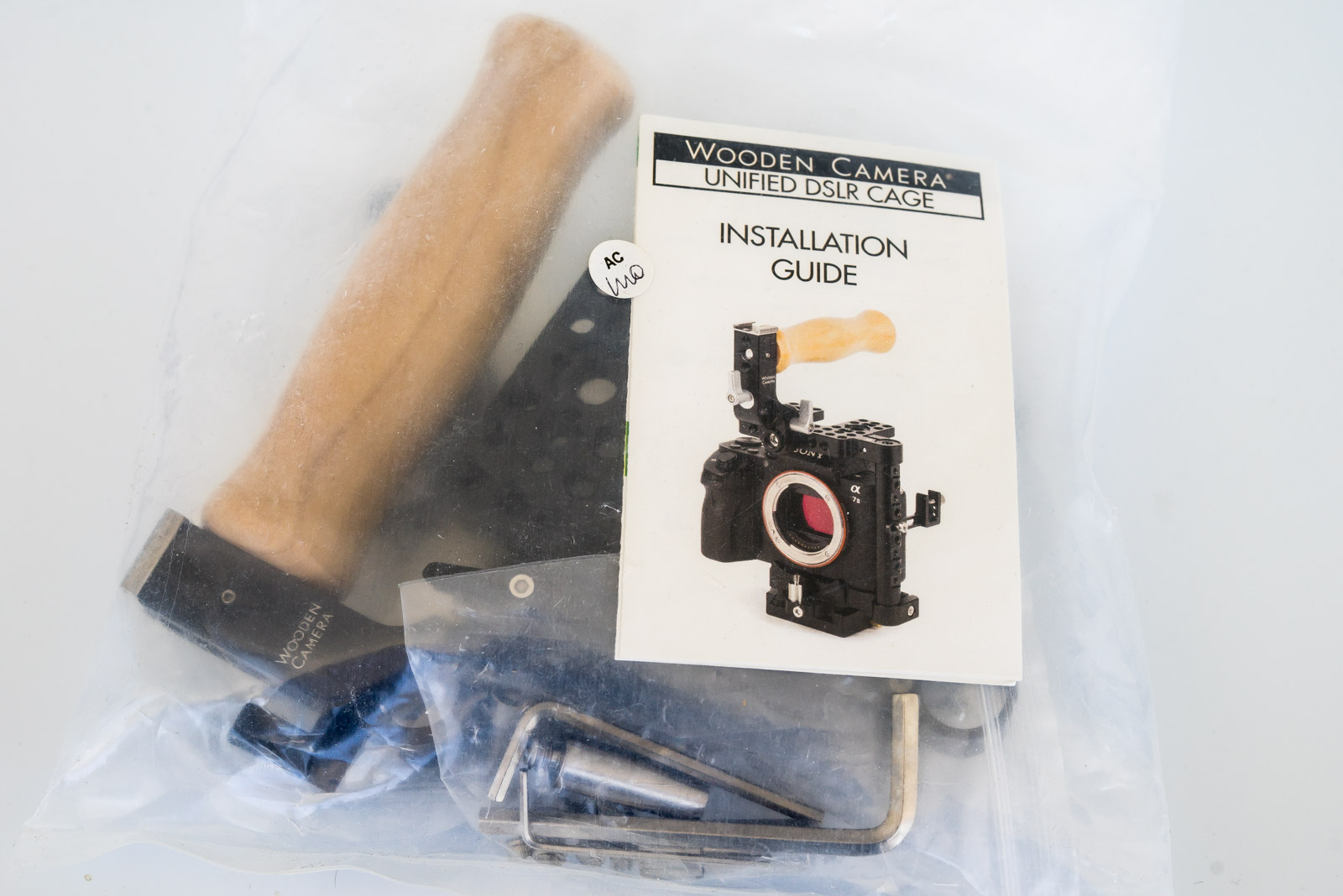 Unlike most other cages, this is designed to accommodate side-mounted flip-out view screens. This new item is the base DSLR cage from the Unified line made by Wooden Camera, and has been marketed as both the "Unified DSLR Cage (Small)" or "Unified DSLR Cage for Sony A7/A9". The marketing names may be different, but both kits are identical. This can be adjusted to fit multiple body types from multiple brands (listed below), and it's parts can be rearranged to suit your setup. This version includes the wooden handle, and currently sells online for $299.00. (Wooden Camera's original SKU: 808014)
This is new and unused and sealed in the original factory packaging. I purchased several different cages to test but never opened this. It will require some simple assembly and adjustments, using the included tools.
The kit includes...
Built-in lens adapter support rod system
Height adjustable top plate
Cheese plates w/ 1/4"-20 & 3/8"-16 holes - 9mm center to center standard spacing, w/ ARRI locating pins and Manfrotto locating slots
Folding & reversible wooden top handle, w/ cold shoe mount
HDMI / Audio / Tether / I/O cable clamp
Manfrotto dovetail QR receiver base plate
- Dimensions / Weight -
Plate assembly rod length: 117mm
Assembled weight: 454g (1.0 lbs)
Assembled dimensions: 215.9 x 114.3 x 152.4 mm (8.5 x 4.5 x 6 in)
Camera Compatibility:

Adaptable to most DSLR Cameras up to 4" tall - factory tested for...

Sony A7, A7II, A7III, A7r, A7s, A7rII, A7rIII, A7rIV, A7sII, A7sIII, a9, a6600, a6500, a6400, a6300, a6100, a6000
Panasonic GH2, GH3, GH4, GH5, GH5s
Canon t2i, t3i, t4i, t5i, t6i, 60D, 550d, EOS M100, EOS M200, EOS R, R5, R6
Nikon Z7, Z50, D90, D3200, D3100, D3300, D3400, D3500, D5100, D5200, D5300, D5500, D7000
Olympus OM-D, EM-1 mkII
Leica CL, Leica S3
Fujifilm GFX 50R
SIGMA fp
This will be well packed to safely protect and secure all of it's parts for travel and delivery. This will include no other items, extra documentation, maker's boxes, or accessories beyond what is shown in the photographs and listed as the included contents on the factory label. The browser screenshot of the assembled item is shown for reference only. This item and it's included and unassembled parts will remain sealed in it's factory packaging. Detailed instructions for it's full assembly are also available from the Wooden Camera website.
NOTE: Given the current public health circumstances, I will only ship this item in 'Click-n-Ship' approved packaging with scheduled USPS carrier pickups. In this case, it will be a USPS Medium Flat Rate Priority Mail box, with fixed shipping cost to your address, and insured for the full purchase price.
---