Sekonic Auto-Leader Meter, Model-38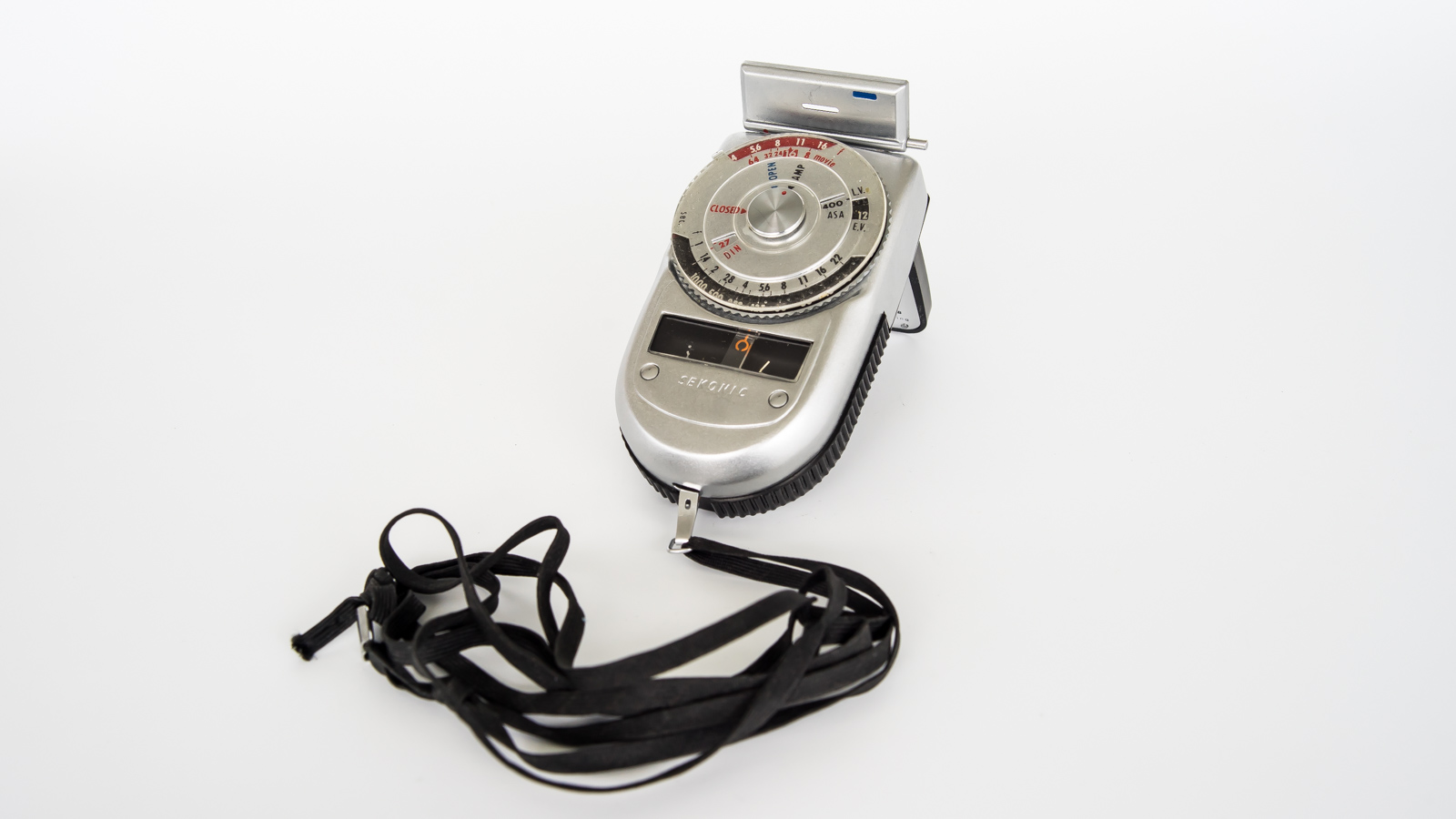 Introduced in 1960, the Sekonic Auto-Leader Model 38 (a.k.a., Sekonic L-38) uses a series of Selenium cells for measuring targets and self-power. No batteries are required for exposure calculations, and 3 separate measurement modes are available to cover standard daylight high brightness, medium/subdued light, and low light conditions, where many other hand-held meters couldn't measure without additional/external cells.
Mode selection is made via a flip out or flip down masking baffle or 'booster' cell that are manually operated. Once the measurement is made, the control ring supplies a series of equivalent exposure settings that may be used to set the camera, as you revolve the ring to match the needle to the target in the metering window.
Overall condition is excellent, with easily settable ring and dial movements. The satin finish is clean and clear of blemishes, and the clear plastic is transparent and without discoloration. All legends and value marks are readable and bright, and all movable parts responsible for calculation mode switching is effortless and locks in place when required for use or storage.
This meter takes readings and makes calculations based on reflected light. The calculated values can be applied to any film (or sensor) ISO/ASA rated between 6-12,000 or 9-42 DIN, and covers f-stop values read directly from f/1 to f/22, and shutter values from 8 seconds to 1/1000th. It can also calculate movie frame exposures for 6, 16, 24, 32, and 64 FPS.
Comparing random readings from this meter to 3 separate meters I depend on for accurate readings, the meter captures and calculates exposure sets at reasonably close values to match them, at all 3 light level modes. All readings seem to be within acceptable margins of error, but no in depth testing was done to exhaust all possible readouts for accuracy or tolerance.
NOTE: You will receive the pictured and described Sekonic Auto-Leader Model 38 light meter, and an attached black ribbon neck lanyard and spring clip; all as-pictured and as-described, with no other accessory items included.
NOTE: Given the current public health circumstances, I will only ship this item in 'Click-n-Ship' approved packaging with scheduled USPS carrier pickups. In this case, it will be a USPS small Flat Rate Priority Mail box, with fixed shipping cost to your address, and insured for the full purchase price.
ref: KO 182630
Availability:

Sold

or BIN Price

$39.00

Sold Price:

$39.00

Item Condition:

Used: Tested

Cosmetic:

Excellent

Optical:

No Optical Defects

Mechanical:

Full Mechanical Functions

Electrical:

Full Electrical Functions

User Manual/Specs:

Purchase By:

Etsy.com - For Sale

Listing Date/Time

Oct 03, 2021 - 01:00am EDT

Buy / Bid Link:
---