Zeiss Jena Tessar 50mm f/3.5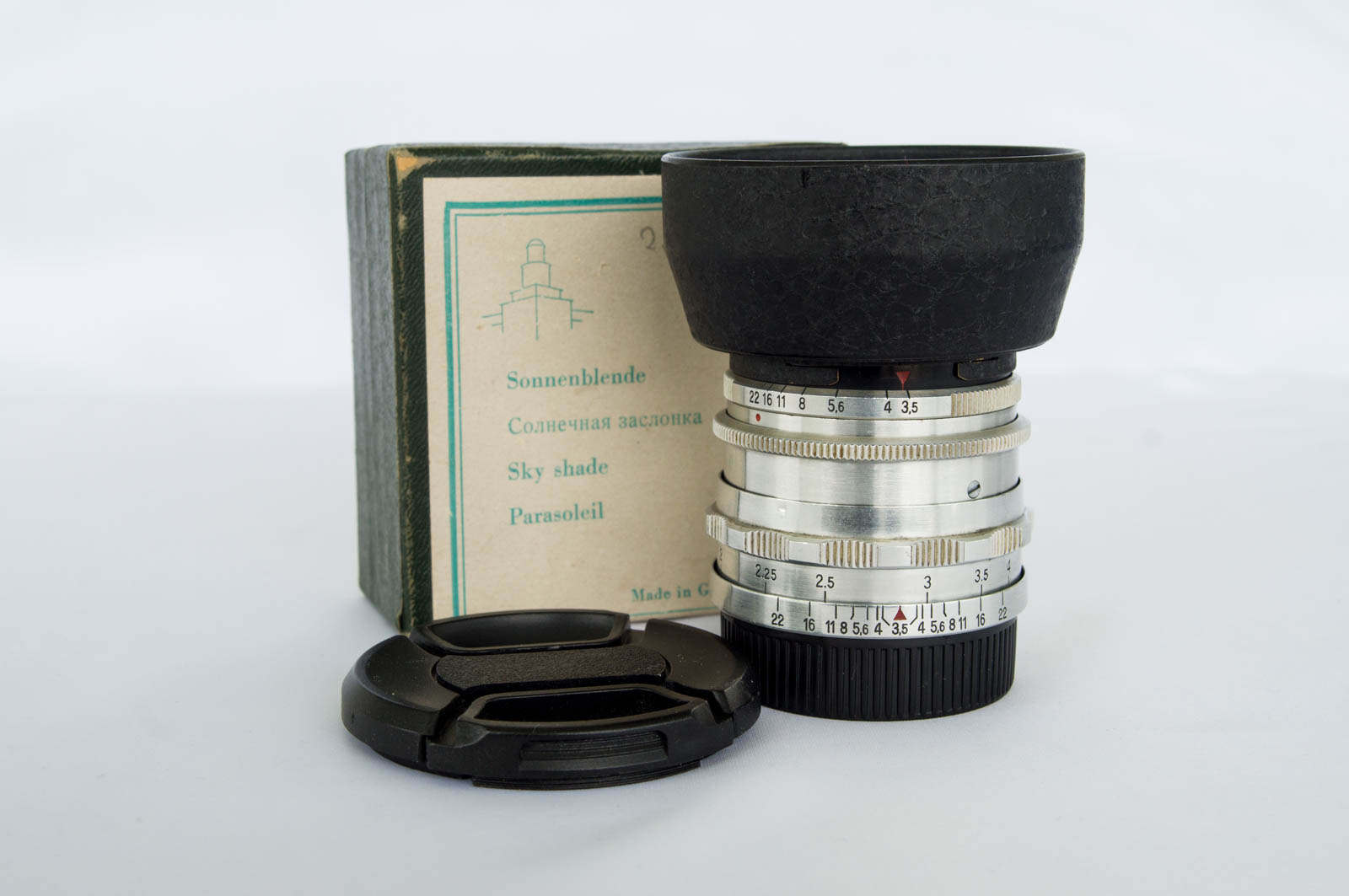 During the trademark dispute between the East and West German Zeiss factories in the mid-1950's, the East German shop in Jena was forced to rework or modify their symbology. Their solution was to take the red uppercase "T" used to denote a coated lens, and give it a crossbar at the bottom, and a crossbar in the middle (marked in a red square in the rim photo). This transitional and short-lived mark is referred to as a "Flying Kite" symbol, and is rare in Jena Tessars in general, and even rarer in these f/3.5 versions, These lenses were also known in Japan as a "King Tessar", due to the symbol resembling the Kanji character for 'King'.
This ultra-lightweight 'version 3' lens is all polished aluminum, and comes with a preset aperture at the front ring. It is in good overall condition cosmetically, with a few minor blemishes to the finish. There is a very minor 'dimple' on the outer focus barrel (marked by the red square, in-photo), and the threaded section at the filter ring has some irregular wear and slight waviness on one side and may not accept filters (large red rectangle in the rim photo). The focusing damping is heavy and could benefit from a CLA to replace the helical grease, but it does rotate it's full throw range to allow it's use as-is.
Optically the lens is in excellent condition, with no haze, fungus, separation, or other anomalies. The 14 aperture blades are clean and oil-free, and can produce some creamy and stunning Bokeh. This lens would operate on any M42 Screw mount film body, or it would work equally well on digital bodies with an appropriate adapter.
You will receive the lens, a boxed 1950's Pentacon 49mm metal slip-on hood in black-crackle finish, and a front generic cap for the hood and a generic rear cap for the lens; all, as pictured and as-described, with no other items included.

Tested on Sony mirrorless bodies for digital use, and on multiple M42 Mount film bodies to confirm full mechanical operations; but has not been 'film tested'. All samples were shot on a Sony NEX-F3 APS-C Mirrorless camera, at f/5.6, and processed in Lightroom v5.7 from RAW files.
Availability:

Sold

or BIN Price

$129.00

Sold Price:

$129.00

Item Condition:

Used: Tested/Digital

Cosmetic:

Good

Optical:

No Optical Defects

Mechanical:

Minor Mechanical Issues

Electrical:

[N/A]

Purchase By:

eBay - Auction or BIN

Listing Date/Time

May 28, 2019 - 6:20pm PDT

Buy / Bid Link:
---