Yashica ML 21mm (624)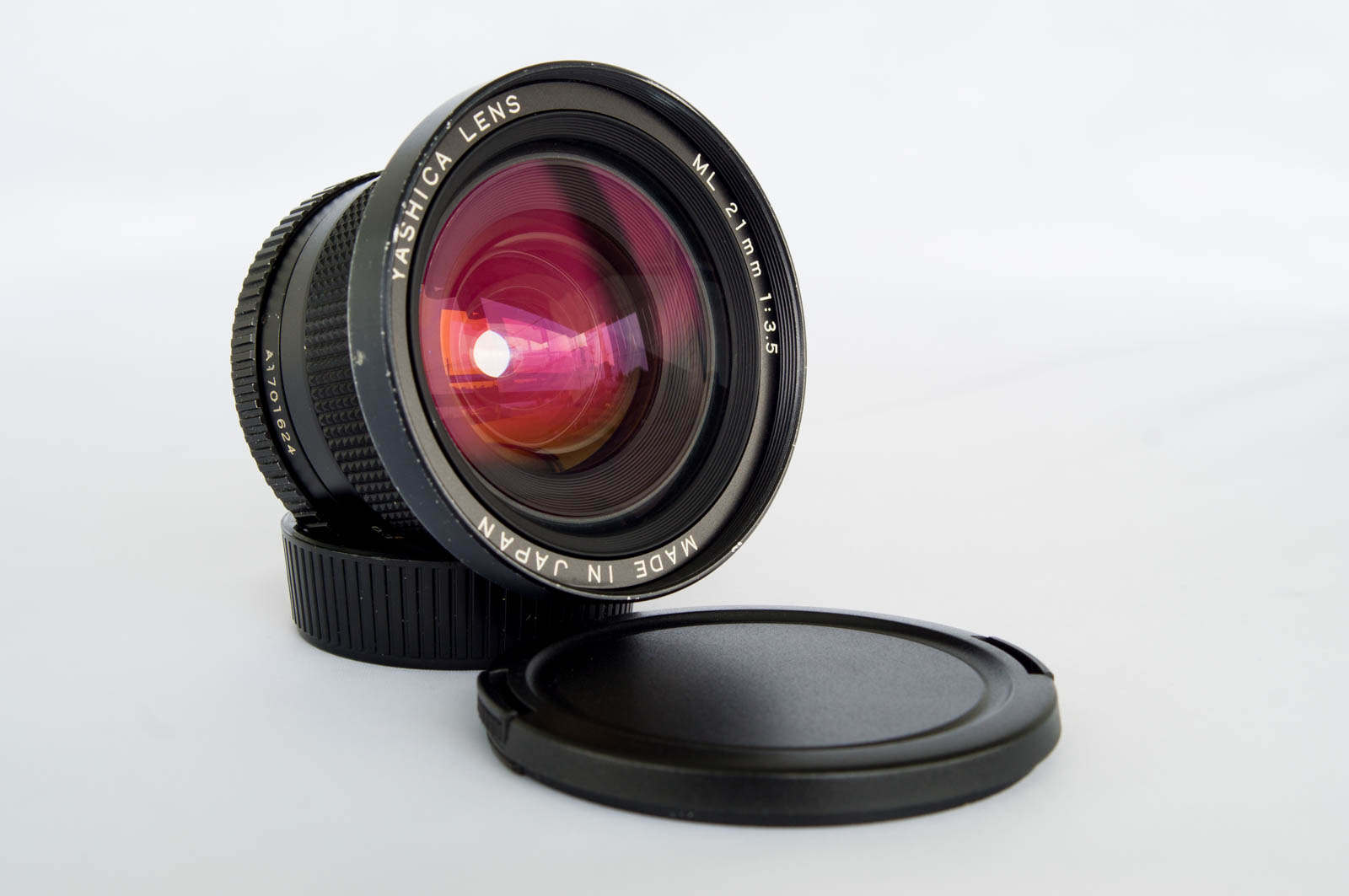 This Contax/Yashica mount 21mm f/3.5 is a rare-ish wide angle rectilinear lens with its ML (multi-layered) coating. This particular lens is the second (#624) of two available, and is in overall good condition. The outer barrel is worn and there's finish wear on the rear mount, but was very well loved, and it's a great example of "Photog Ugly', with it's respectable use showing on the outside, but still near-perfect on the inside. It may appear to be weathered, but this lens has no optical defects to affect your photos, and it operates far better than it looks.
Everything operates smoothly, and is fully functional. The glass has no haze, fungus, separation, or other undisclosed anomalies. The aperture clicks lightly, and the focus is smooth and effortless. This lens would operate on any Contax/Yashica or any other C/Y mount film body, or it would work equally well on digital bodies with an appropriate adapter.
You will receive the lens and both front and a rear generic caps, as pictured and as-described, with no other items included.

Tested on Sony mirrorless bodies for digital use, and on multiple Contax and Yashica C/Y mount bodies to confirm full mechanical operations; but has not been 'film tested'.
---
Sample Photos
All of the samples below were shot using this (#624) lens, in mid-afternoon on June 7th, 2019. The F-stops used range from F/4 to F/8. There is NO sharpening applied to any sample other than the abstract at the end; and Chromatic Aberration, lens distortion, and color and luminance noise were all removed on every photo during post processing and conversion. All photos were taken on a Sony A7R full frame camera, with a Novoflex C/Y to E-Mount adapter. The Lightroom screen-shots show the 1:1 crops of the left, center, and right sections of the frame above them to help judge the resolution and sharpness across the entire frame.
Availability:

For Sale

or BIN Price

$359.00

Item Condition:

Used: Tested/Digital

Cosmetic:

'Photog Ugly'

Optical:

No Optical Defects

Mechanical:

Full Mechanical Functions

Electrical:

[N/A]

Purchase By:

eBay - Buy It Now

Listing Date/Time

May 28, 2019 - 10:40am PDT

Buy / Bid Link:
---