Voigtlander Bessa Folder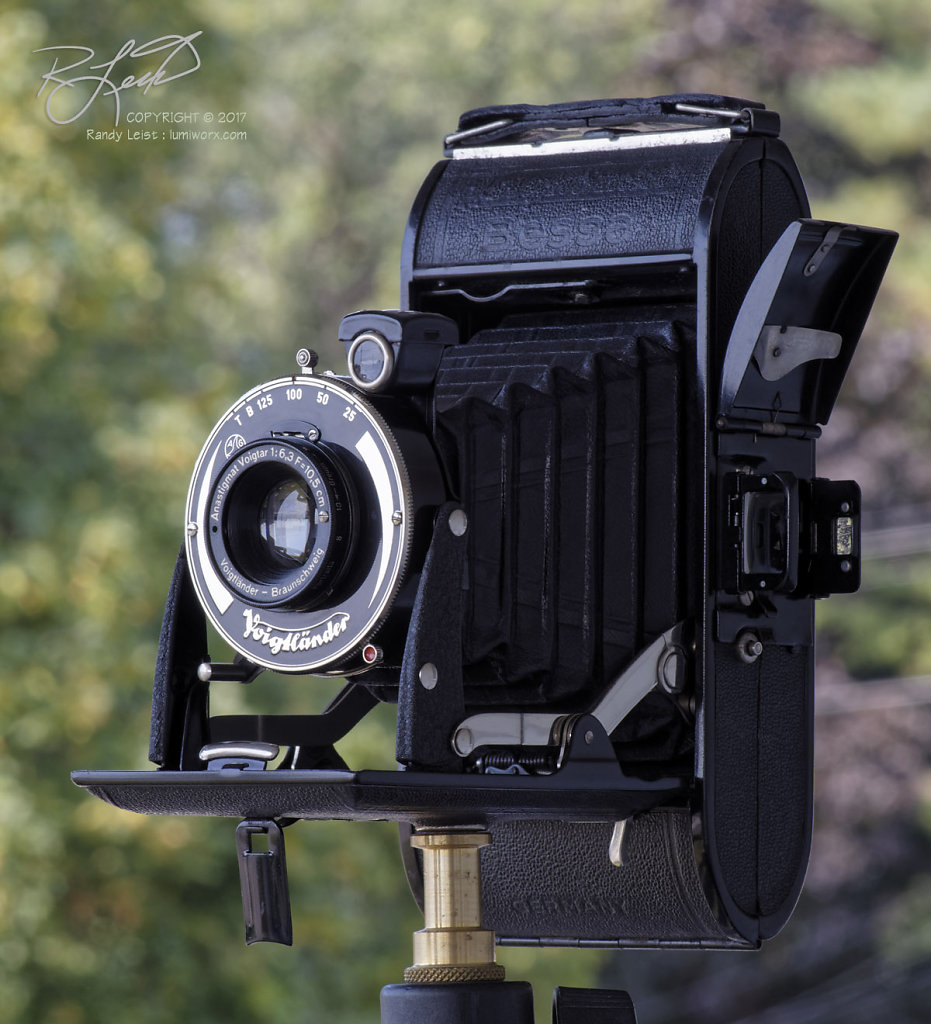 This is the initial version of the classic Voigtlander Bessa Rangefinder folding camera for 120 roll film, with a Voigtar 105mm f/6.3 lens, introduced and produced in 1938.
Everything is in excellent condition, and fully functional. The retractable leather top-grip has been replaced and is an exact copy of the original. With the exception of the replacement leather over the viewfinder's metal clam-shell cover, the body covering is all original, and is in excellent condition, with virtually no wear or major scuffs visible. The interior is clean and includes an empty 120 film spool, ready for a fresh load of color or black and white film.
The Voigtar lens and both finders are clean and clear, with no optical defects to affect image quality. All the bright-work is in excellent condition, with no exterior or interior surface corrosion or pitting, but with some very minor surface rust on the back's hinge pin heads. The bellows are free of tears or holes and is light-tight, as-tested with a mini gooseneck penlight. All shutter speeds sound reasonably accurate, but have not been measured. There is a single screw missing in the lens bezel, but it should not adversely affect usage.
Both of the shutter triggers are working properly, and are light to the touch when activated. The camera standards retract easily, and the front standard folds back to its closed position with little effort, and opens with a light press on the latching button. It should be noted that the 6x4 masking plate used to modify the negatives to their alternate/smaller size is missing, but this does not affect the camera's functionality in producing standard 6x9 format images.
You will receive the camera and film spool, as pictured and as-described, with no other items included.

Basic testing to confirm full mechanical operations only; but has not been 'film tested'.
Availability:

Sold

Price / Bid Open (USD)

$69.00

Sold Price:

$69.00

Item Condition:

Used: Basic Testing

Cosmetic:

Excellent

Optical:

No Optical Defects

Mechanical:

Full Mechanical Functions

Electrical:

[N/A]

Purchase By:

eBay - Auction

Listing Date/Time

May 28, 2019 - 5:00pm PDT

Buy / Bid Link:
---