Nikon N80 w/ MB-16 Grip, 28-80mm & hood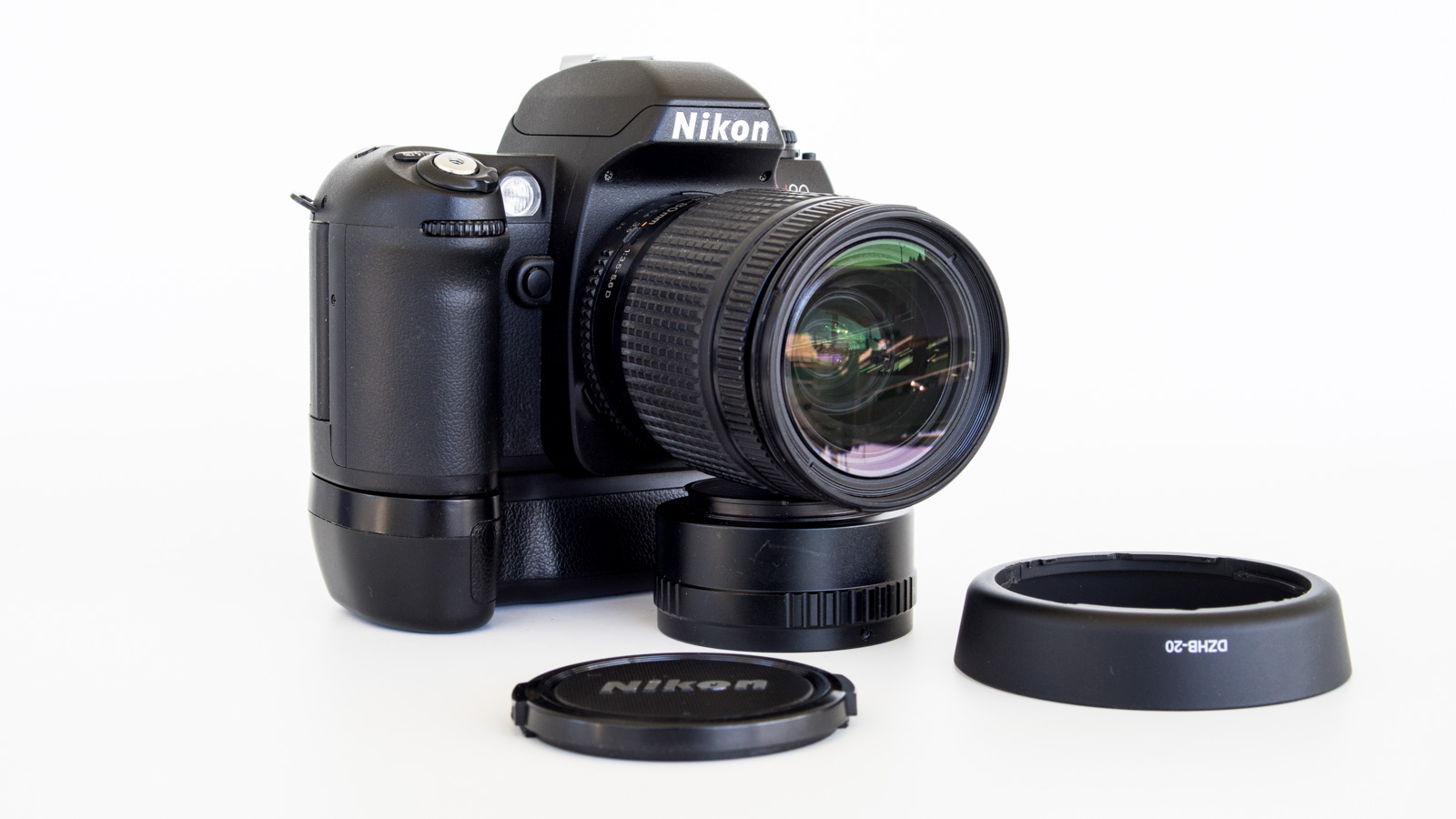 The Nikon N80 is a prosumer Auto Focusing film camera and was introduced in 2000. It offers aperture and shutter priority and 'Program' shooting modes in addition to a fully manual mode. This camera body and lens combination is in excellent shape overall and shows minimal signs of use.
The shutter speeds sound reasonably accurate at all settings to my ears, and the PC sync fires appropriately when the shutter is triggered - as does the self timer. The film and battery compartments are clean and clear, and release properly for use. Everything operates smoothly, and the camera and lens are functional **.
The 28-80mm AF f/3.5-5.6 is the second generation 'D' lens and offers a significant focal range for everything from wider landscapes to portrait shots, and is in excellent condition. It has no haze, no fungus, no separation, and no scratches or coating issues or other anomalies. There may be a minimal amount of dust, if any, but this will not affect photos. The lens focuses smoothly, with full aperture control for both auto and manual modes, on oil-free blades. The lens will operate on any Nikon F-Mount body that accepts AF lenses, or will also work equally well on many digital bodies with an appropriate adapter.
The built-in flash is functional, and affirms all flash modes and TTL success in the viewfinder for setup and firing. The manual lock button to enable and open it, works as expected.
The viewfinder and mirror are clear with minimal dust and no debris, and will have no effect on overall functionality or the quality of your photos. The meter and its viewfinder display are active, and responsive to settings. Meter readings appear to be reasonable in value, and generally match stand-alone meters and digital camera readings.
The MB-16 Grip serves to extend shooting time by a factor of 2, and offers a physical extension to the body to provide a comfortable vertcal grip surface. It is in excellent condition, with clean contacts and battery holder and compartment, and is fully functional.
You will receive the pictured and described camera body, the 28-80mm AF-D zoom lens with an OEM front cap and a generic bayonet hood, and the MB-16 battery grip; as-pictured and as-described, with no other accessory items included, however, I will send along a freshly installed battery to get you started. The lens adapter is used as a prop, and is not included.
Please note that this is a manual focusing camera, even though it accepts AF lenses in Nikon F-Mount like the included 28-80mm AF-D. It will also accept older vintage/legacy lenses, as well as newer Auto Focus lenses still in current production. There are some exceptions, as noted below. This makes the camera extremely versatile and adaptable to a wide range of shooting and creative styles. Please consult the linked online user manual for full specifications and compatibilities.
Non-compatible Nikon Nikkor lenses:
Any non-AI lenses
Fisheye lenses - 6mm f/5.6, 10mm f/5.6
200-600mm f/9.5
ED 180-600mm f/8
ED 360-1200mm f/11
400mm f/5.6 & 600mm f/5.6 - w/ AU-1
PC 28 f/4
PC 35mm f/2.8
Reflex 1000mm 0r 2000mm f/11
Teleconverters - TC-16 or TC-16a
Produces exposure errors w/ AF Nikkor 80mm f/2.8 & Nikkor 200mm f/3.5 IF
** NOTES ON FUNCTIONALITY: The lens has been tested and used separately on Sony full-frame and APS-C mirrorless bodies for digital use, and on the included body to confirm mechanical and electrical/electronic operations, but the body, and/or lens have not been 'film tested' nor are they offered or warranted to be 100% accurate for any measured operations or functionalities due to age and/or modern battery limitations. If your intent is to use the camera with film, it may require new light seals at some later time. Seal kits are cheap and easy for anyone to replace them on their own, and without the need for special tools.
NOTE: Given the current public health circumstances, I will only ship this item in 'Click-n-Ship' approved packaging with scheduled USPS carrier pickups. In this case, it will be a USPS Medium Flat Rate Priority Mail box, with fixed shipping cost to your address, and insured for the full purchase price.
Availability:

For Sale

or BIN Price

$149.00

Item Condition:

Used: Tested/Digital

Cosmetic:

Excellent

Optical:

No Optical Defects

Mechanical:

Full Mechanical Functions

Electrical:

Full Electrical Functions

User Manual/Specs:

Purchase By:

Etsy.com - For Sale

Listing Date/Time

Nov 20, 2021 - 11:45pm EDT

Buy / Bid Link:
---