Nikkorex Sekor 35mm f/2.8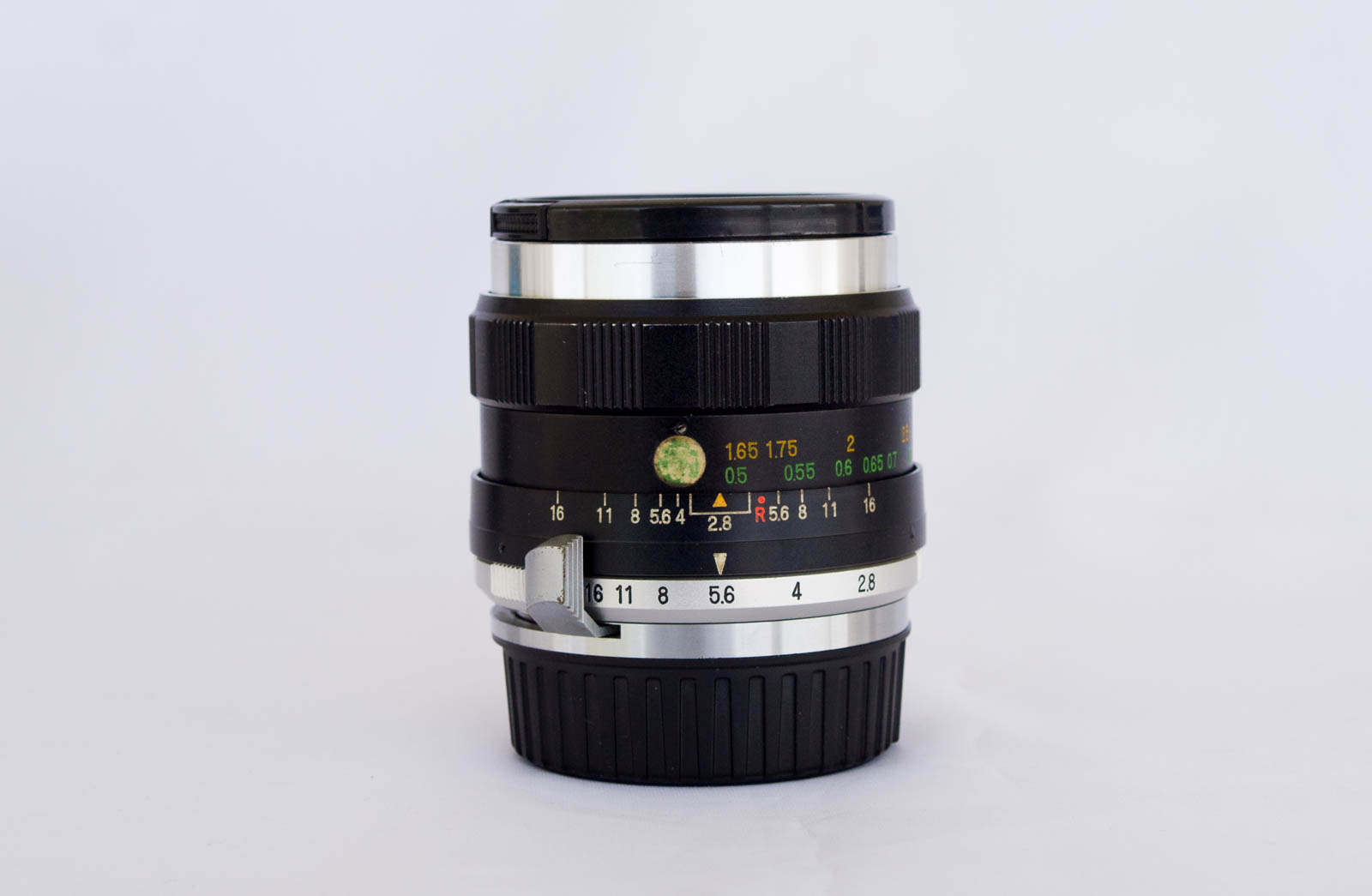 This is second of two rare lenses made available in limited production from 1962 to 1966, and produced by Mamiya Sekor in F-Mount. These lenses were paired with the body they manufactured and provided to Nikon for release as the Nikkorex F. Both prime lenses extended the standard kit setup, in two focal lengths... the 135mm f/2.8 telephoto, and this 35mm f/2.8 wide angle. Each lens is a semi-auto design that is suited to the metering and exposure setup of the Nikkorex body.
This 35mm wide-angle lens is in excellent overall condition, with only some darkening of the legend markings for the aperture and depth of field scale. Otherwise there are minimal signs of use, and the bright-work and barrel are nearly flawless. Optically, the glass is in pristine condition, and none of its optical elements have haze, fungus, separation, or other anomalies. NOTE: The glass merely exhibits it's amber lens coating, and has not yellowed with age.
Everything operates smoothly, and is fully functional, with full aperture control of the clean/dry blades. This lens would operate on any Nikon F-Mount film body, and almost all of the digital bodies as well, when used as a preset and/or in stop-down metering mode. It would also work well on many non-Nikon digital bodies with an appropriate adapter.
You will receive the lens, and generic front and rear lens caps. You will receive everything as-pictured and as-described, with no other items included.

The lens was tested on Sony mirrorless bodies, and a Nikon D5200 for digital use, and on the original series of Nikkorex bodies to confirm full mechanical operations. This lens has not been 'film tested'.
Availability:

Sold

Price / Bid Open (USD)

$119.00

Sold Price:

$119.00

Item Condition:

Used: Tested/Digital

Cosmetic:

Excellent

Optical:

No Optical Defects

Mechanical:

Full Mechanical Functions

Electrical:

[N/A]

Purchase By:

eBay - Buy It Now

Listing Date/Time

May 28, 2019 - 11:00am PDT

Buy / Bid Link:
---