Nikkorex 'F' w/ 5cm f/2 (#809)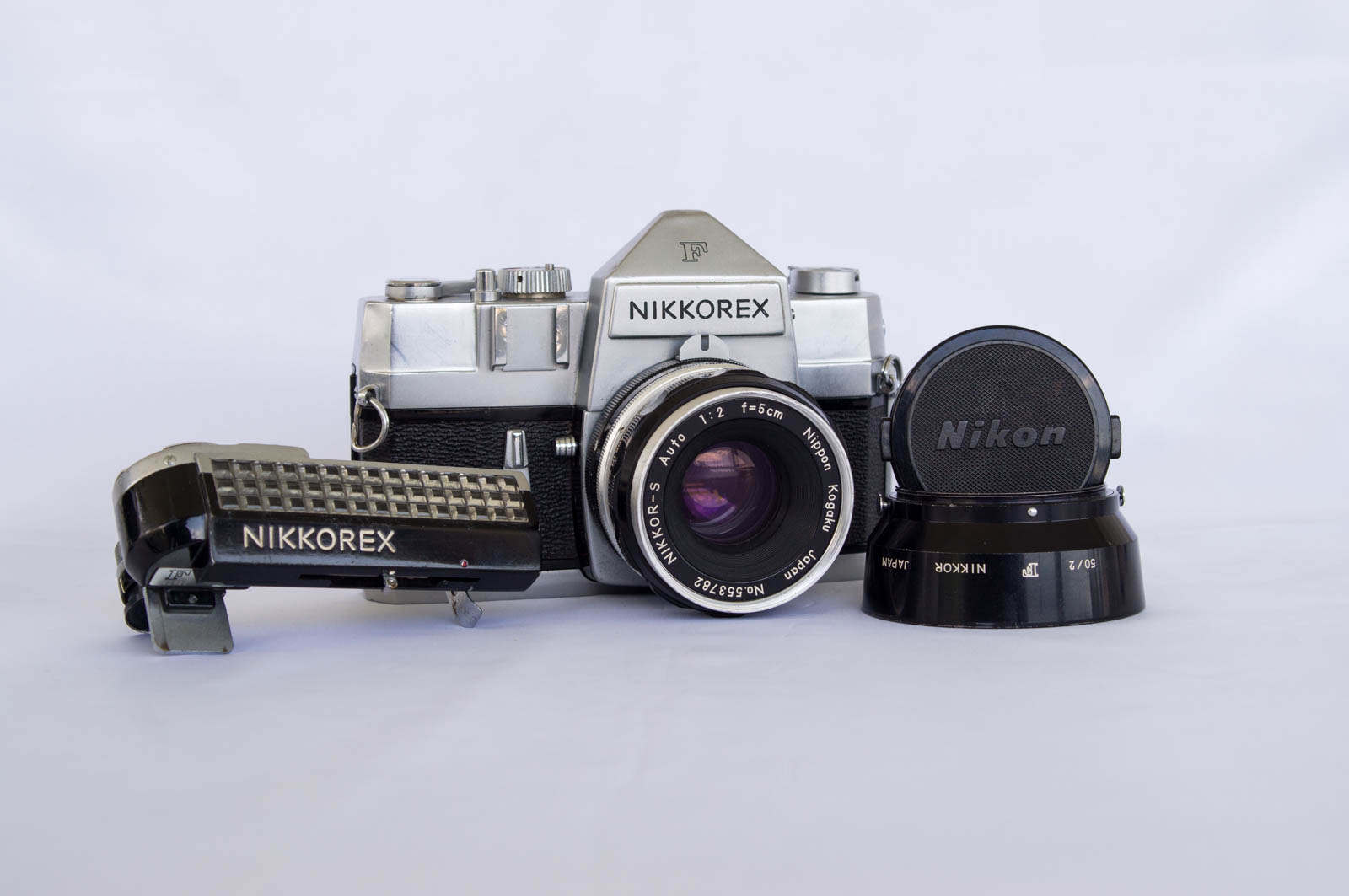 This is an early version 1962/64 Nikkorex 'F' body, with a 1962/63-ish Nikkor-S Auto 5cm f/2 lens, complete with an outlined, big 'F' Nikon lens hood, and a vintage 52mm Nikon clip-on front cap. These were the introductory Nikon cameras and lenses that came to the US market to help promote the Nikon line of pro-level camera and lens systems of the time.
The included 'Pat. Pend.' lens is in excellent overall condition, with minimal signs of use, and the bright-work, barrel and legend are all clean, clear and legible - with some minor brassing of the focus ring. Optically, the glass is in pristine condition, and no optical elements have haze, fungus, separation, or other anomalies. Everything operates smoothly, and is fully functional, with full aperture control of the clean/dry blades. This 'Non-Ai' lens would operate on any Nikon F-Mount film body, and almost all of the digital bodies as well, when used in non-matrix or in stop-down metering mode. It would also work well on many non-Nikon digital bodies with an appropriate adapter.
The Nikkorex body is also fully functional, and is in overall good condition. There is a moderate amount of wear, and some finish loss and a few minor bumps and bruises, but the shutter fires on every try, and the shutter sounds reasonably accurate at all speeds. The self-timer is working, but may need some exercising to run consistently 'at speed'. The viewfinder and mirror are functional and clear to view and compose, but do have some minor scratches that do not affect their performance or interfere with your visibility.
The meter is appropriately responsive to light and appears to be moderating its values to match lighting conditions, but it has not been tested for accuracy. It is in excellent overall condition, with minor wear from use. The legends are clean, clear and legible.
You will receive the camera body, the detachable meter, the 5cm f/2 lens, the Nikon "F" hood and Nikon front cap, with a generic rear lens cap. You will receive everything as-pictured and as-described, with no other items included.

The lens was tested on Sony mirrorless bodies, and a Nikon D5200 for digital use, and on multiple Nikon F-Mount bodies to confirm full mechanical operations. Neither the lens and/or body has been 'film tested'.
---
ref: b/361809 | mtr/742920 | 5cm/553782
Availability:

Unsold

Price / Bid Open (USD)

$109.00

Item Condition:

Used: Tested/Digital

Cosmetic:

Good

Optical:

No Optical Defects

Mechanical:

Full Mechanical Functions

Electrical:

[N/A]

Purchase By:

eBay - Auction

Listing Date/Time

May 28, 2019 - 11:20am PDT

Buy / Bid Link:
---