Nikkorex 'F' w/ 5cm f/2 (#285)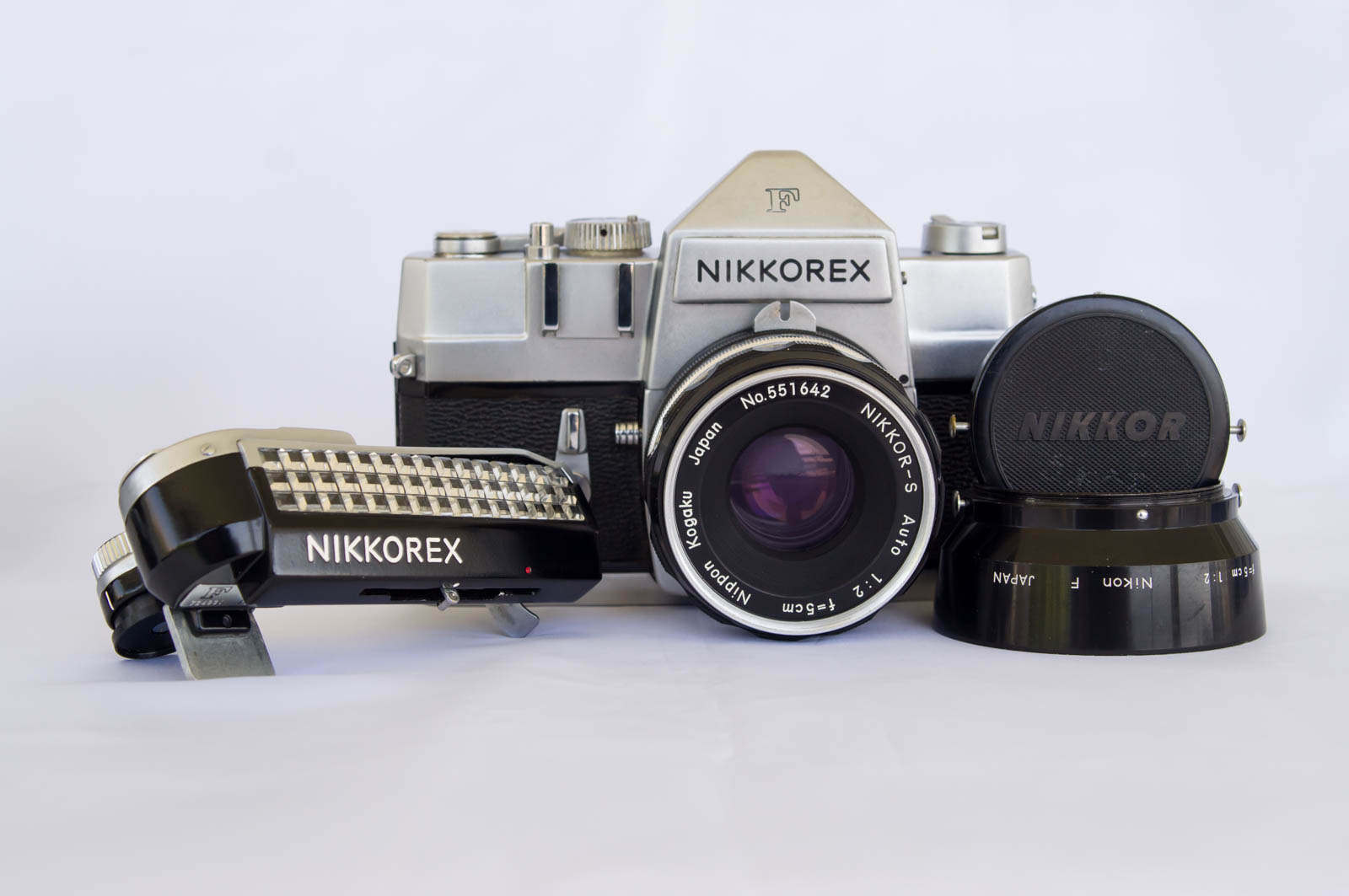 This is an early 1962/64 version Nikkorex 'F' body, with a 1962/63 Nikkor-S Auto 5cm f/2 lens, complete with a Nikon 'F' lens hood, and a vintage 52mm Nikon clip-on front cap. These were the introductory Nikon cameras and lenses that came to the US market to help promote the Nikon line of pro-level camera and lens systems of the time.
The included lens is in excellent overall condition, with minimal signs of use, and the brightwork, barrel and legend are all clean, clear and legible, although the footage markings in white on the focus ring scale have faded. Optically, the glass is in pristine condition, and no optical elements have haze, fungus, seperation, or other anomolies. Everything operates smoothly, and is fully functional, with full aperture control of the clean/dry blades. This 'Non-Ai' lens would operate on any Nikon F-Mount film body, and almost all of their digital bodies as well, when used in non-matrix or in stop-down metering mode. It would also work well on many non-Nikon digital bodies with an appropriate adapter.
The Nikkorex body is in good overall cosmetic codition, and is fully functional. There is a moderate amount of wear, with some finish abrasions to the brightwork, and the shutter fires and sounds reasonable in duration for all speeds. The viewfinder and mirror are functional and clear to view and compose, with no major dust/debris to be a distraction or to interfere with visibility. Both the self-timer and depth of field lever are working, as expected.
The meter is appropriately responsive to light and appears to be moderating its values to match lighting conditions, but it has not been tested for accuracy. It is in good overall condition, with minor wear from use, but at some point in time it suffered damage to the upper front corner. The metal cover has been slightly bent and the front-facing clear plastic cover has a 2mm crack starting from it's edge - but - the metering functions do not appear to have been affected. The legends are clean, clear and legible.
You will receive the camera body, the detachable meter, the 5cm f/2 lens, the Nikon "F" hood and Nikon front cap, with a generic rear lens cap. You will receive everything as-pictured and as-described, with no other items included.

The lens was tested on Sony mirrorless bodies, and a Nikon D5200 for digital use, and on multiple Nikon F-Mount bodies to confirm full mechanical operations. Neither the lens and/or body has been 'film tested'.
---
ref: b/356285 | mtr/724031 | 5cm/551642
Availability:

Unsold

Price / Bid Open (USD)

$99.00

Item Condition:

Used: Tested/Digital

Cosmetic:

Excellent

Optical:

No Optical Defects

Mechanical:

Full Mechanical Functions

Electrical:

[N/A]

Purchase By:

eBay - Buy It Now, or Best Offer

Listing Date/Time

May 28, 2019 - 12:00am PDT

Buy / Bid Link:
---