Nikkor-S 50mm f/1.4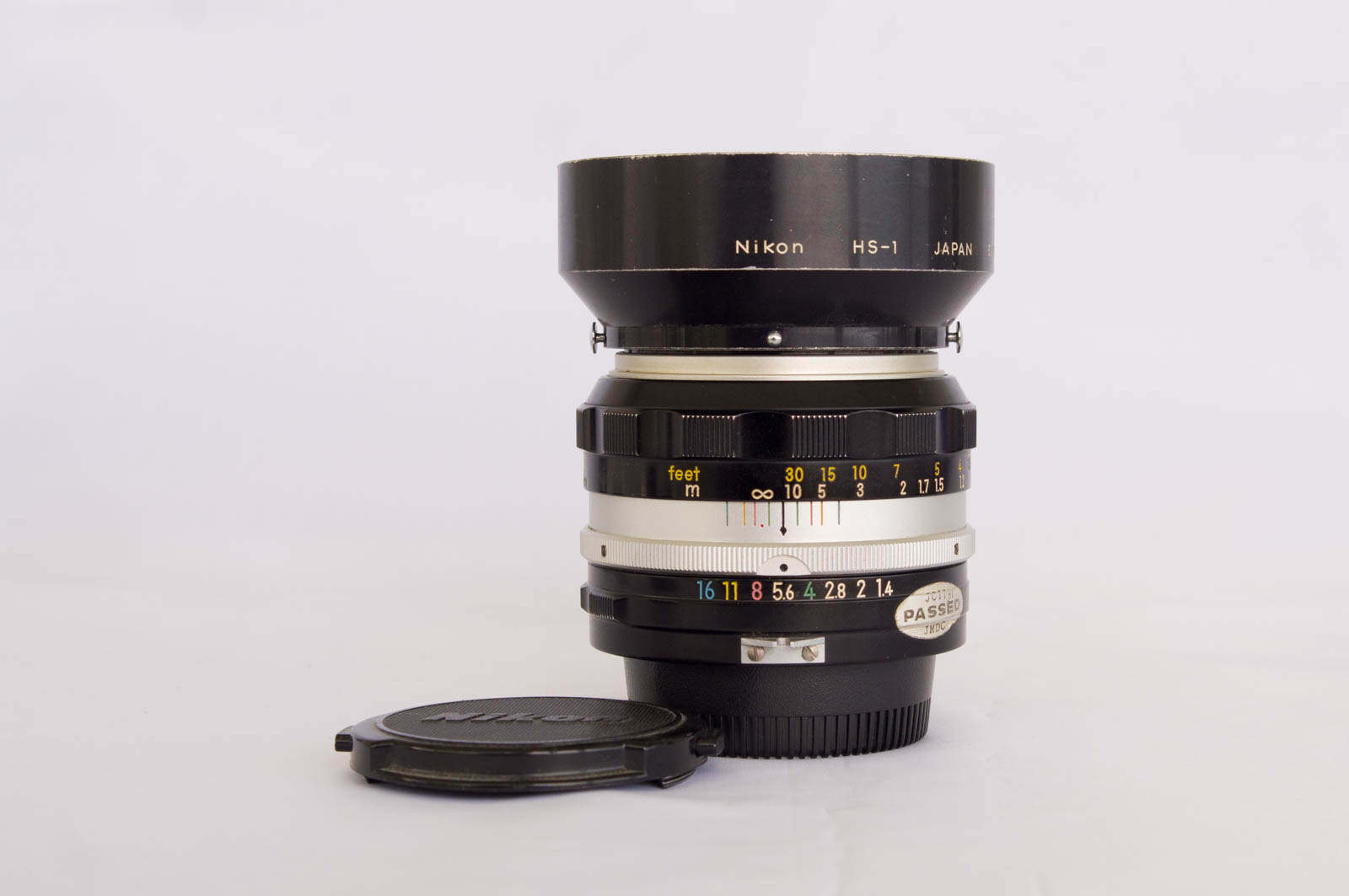 This somewhat early 1967/68 Nippon Kogaku (Nikon) fast aperture Nikkor-S in F-Mount, is a Non-Ai prime lens at a 50mm focal length, with an f/1.4 aperture. This pronged lens will fit on every Nikon film body, and on many digital Nikon bodies that will accept non-indexing lens models. The matching HS-1 hood was designed for this lens, along with the period-appropriate clip-on cap. The hoods can be reversed and re-capped for protective storage when not in use.
This lens is in excellent overall condition, with minimal signs of use, and the bright-work, barrel and legend are all clean, clear and legible. Optically, the glass is in pristine condition, and no optical elements have haze, fungus, separation, or other anomalies. NOTE: The glass merely exhibits it's amber lens coating, and has not yellowed with age.
Everything operates smoothly, and is fully functional, with full aperture control of the clean/dry blades. This lens would operate on any Nikon F-Mount film body, and almost all of the digital bodies as well, when used in non-matrix or in stop-down metering mode. It would also work well on many non-Nikon digital bodies with an appropriate adapter.
You will receive the lens, HS-1 Nikon "F" hood and Nikkor front cap, with a generic rear cap. You will receive everything as-pictured and as-described, with no other items included.

The lens was tested on Sony mirrorless bodies, and a Nikon D5200 for digital use, and on multiple Nikon F-Mount bodies to confirm full mechanical operations. This lens has not been 'film tested'.
Availability:

Sold

or BIN Price

$79.00

Sold Price:

$79.00

Item Condition:

Used: Tested/Digital

Cosmetic:

Excellent

Optical:

No Optical Defects

Mechanical:

Full Mechanical Functions

Electrical:

[N/A]

Purchase By:

eBay - Auction

Listing Date/Time

May 28, 2019 - 6:20pm PDT

Buy / Bid Link:
---