Minolta MC Rokkor-PF 58mm f/1.4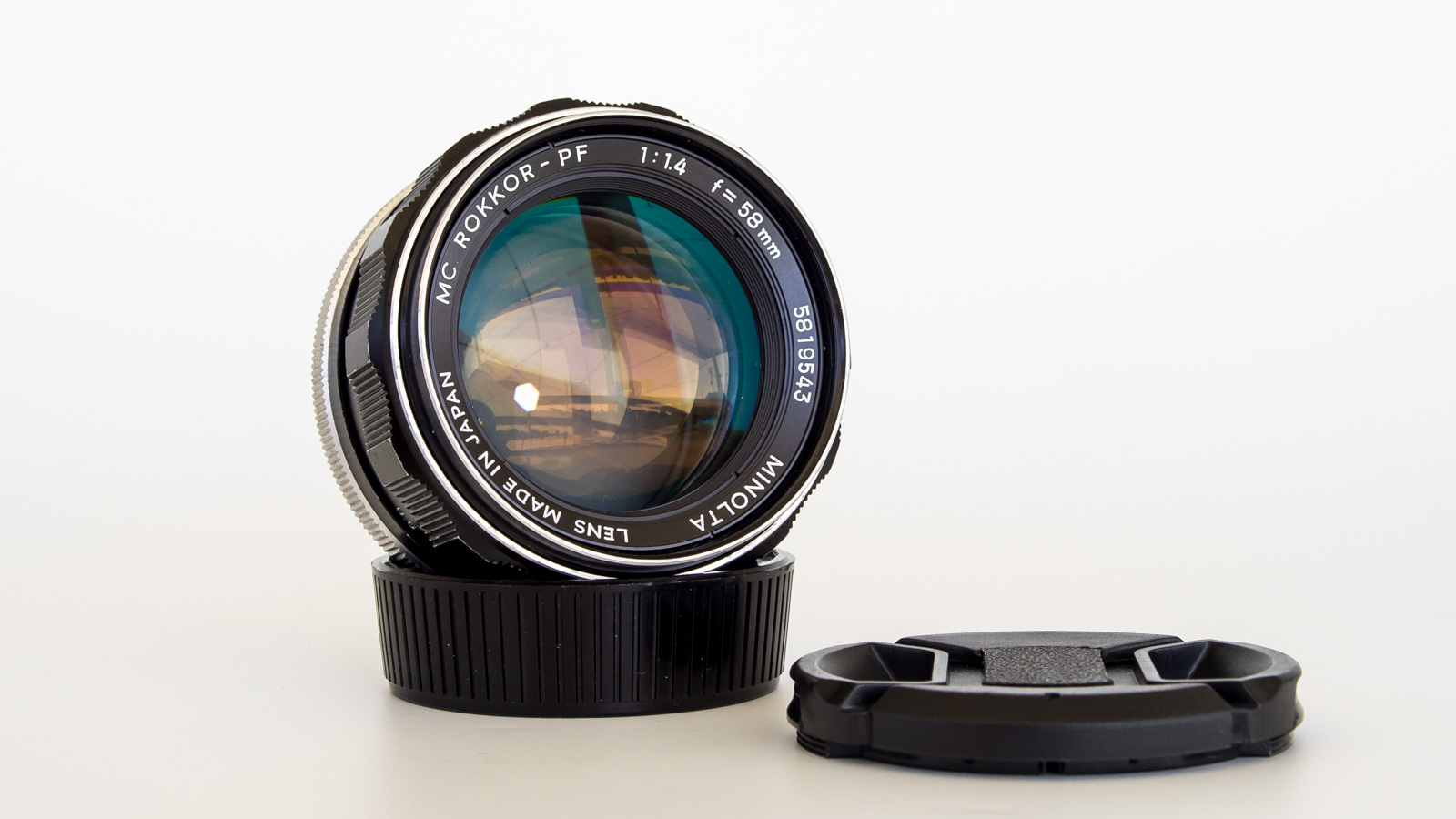 This Multi-Coated Minolta MD Rokkor-PF 58mm f/1.4 in MD mount is an upgraded kit lens version, and would be suitable for landscapes, street shots, or even portraits for those adapting to a crop format digital sensor. The lens is the fastest of the Minolta primes in 58mm, and is known for it's color and clarity, speed, and contrast. The lens is in good condition with minor wear, and excellent optics that are ready to shoot.
Everything operates smoothly, and is fully functional. The glass has no haze, no separation, and one pin-head sized speck on the rear element, that might be a scuff or the remanents of old fungus. It has been thoroughly cleaned and disinfected with both cleaning solutions and UV light to ensure it will not affect photos, but the lens has no other undisclosed anomolies. There are a few minor dust particles, but those will not affect your images. The oil-free aperture clicks lightly, and the focus is even and well damped. This lens would operate on any Minolta MD mount film body, or it would work equally well on digital bodies with an appropriate adapter.
You will receive the lens, and two new generic caps for the front and rear; all as pictured and as-described, with no other items included.

This lens has been tested on Sony E-Mount mirrorless bodies for digital use, and on a Minolta XD-11 film body to confirm full mechanical operations; but has not been 'film tested'.
SAMPLE PHOTO NOTES: All 3 photos were taken with this lens mounted on a Sony A7R full-frame digital camera using a low-cost 'dumb' adapter. The aperture was set to capture photos at f/5.6, with ISO set to 200. Other than adjustments to exposure levels and minimal adjustments for color and luminance noise, no other post processing was done before conversions from RAW files to JPEG were done for posting online.
NOTE: Given the current public health circumstances, I will only ship this item in 'Click-n-Ship' approved packaging with scheduled USPS carrier pickups. In this case, it will be a USPS 7" x 6" x 6" Priority Mail box, with calculated shipping cost to your address, and insured for the full purchase price.
Availability:

For Sale

or BIN Price

$79.00

Item Condition:

Used: Tested/Digital

Cosmetic:

Good

Optical:

Minor Optical Defects

Mechanical:

Full Mechanical Functions

Electrical:

[N/A]

Purchase By:

Etsy.com - For Sale

Listing Date/Time

Aug 17, 2021 - 6:00am EDT

Buy / Bid Link:
---