Konica AR 85mm f/1.8 (#011)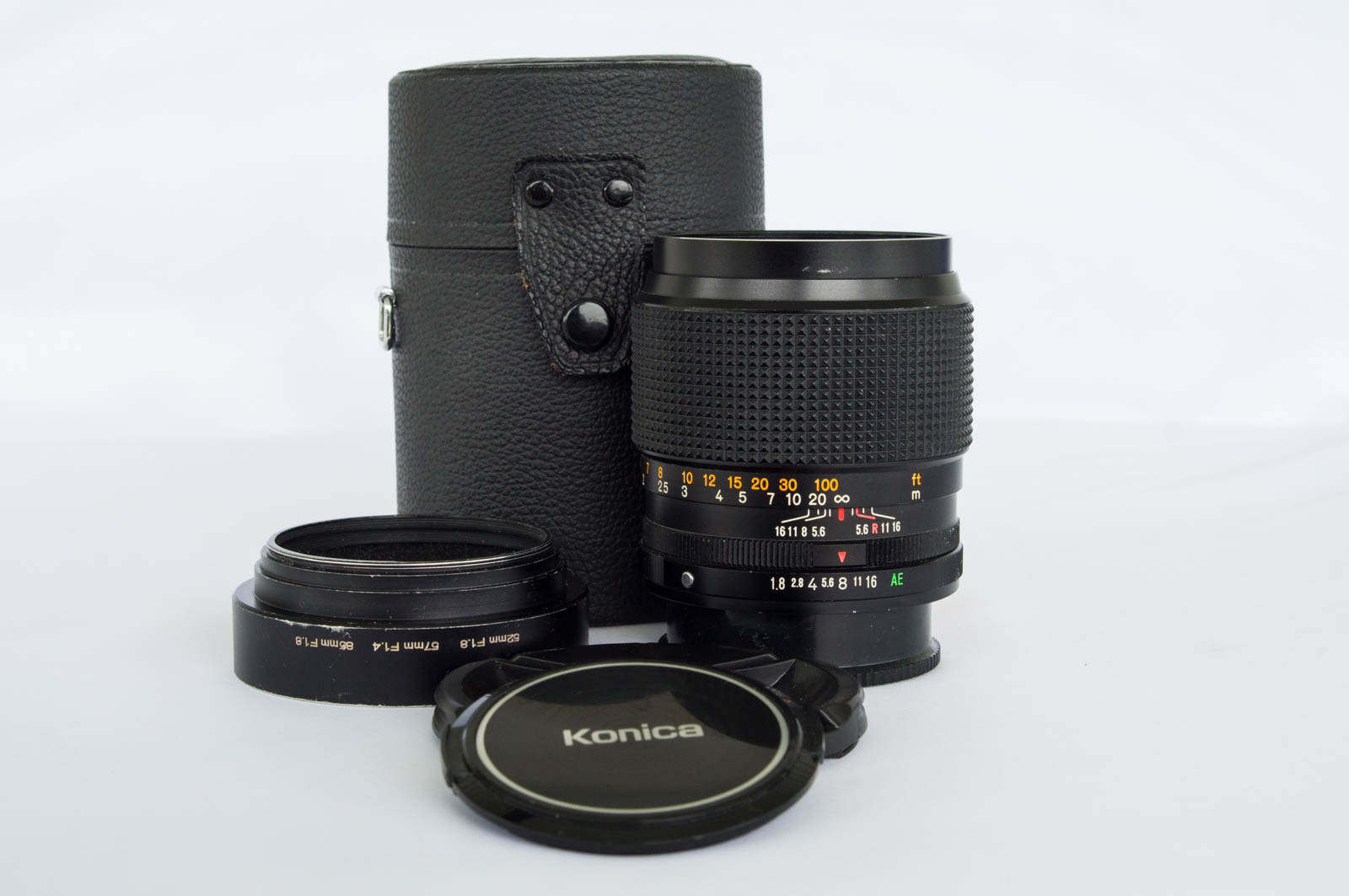 This fast Konica 85mm f/1.8 is a rare-ish portrait lens in AR mount, and is the 'Green AE' (last) model of the series. This particular lens is one (#011) of two available, and is in overall excellent condition. This lens has no optical defects, and the body and barrel have very minor signs of wear overall.
Everything operates smoothly, and is fully functional. The glass has no haze, fungus, separation, or other undisclosed anomalies. The aperture clicks lightly and locks as-expected, and the focus is smooth and effortless. This lens would operate on any Konica AR mount film body, or it could work equally well on digital bodies with an appropriate adapter.
NOTE: Please be aware that this is a true portrait lens, in the classic sense. It is sharp, but not razor sharp, so that it doesn't highlight or exaggerate normal pores in the skin or magnify blemishes in skin texture or tone; and it was designed to operate optimally at traditional subject distances for portraiture. If your intention is to use this lens for landscapes, nature, or general 'street shooting' - or even macro work - you're likely to be disappointed with your results.
You will receive the lens and both front and a rear original caps, the original metal screw-in hood that stows away with the lens in the included OEM leather case - plus, one additional generic lens cap, sized for use on the hood when it's attached; all as pictured and as-described, with no other items included.

Tested on Sony mirrorless bodies for digital use, and on multiple Konica AR mount bodies to confirm full mechanical operations; but has not been 'film tested'.
Availability:

Sold

Price / Bid Open (USD)

$219.00

or BIN Price

$289.00

Sold Price:

$219.00

Item Condition:

Used: Tested/Digital

Cosmetic:

Excellent

Optical:

Minor Optical Defects

Mechanical:

Full Mechanical Functions

Electrical:

[N/A]

Purchase By:

eBay - Auction or BIN

Listing Date/Time

May 28, 2019 - 7:40pm PDT

Buy / Bid Link:
---