Konica AR 57mm f/1.4 (#885)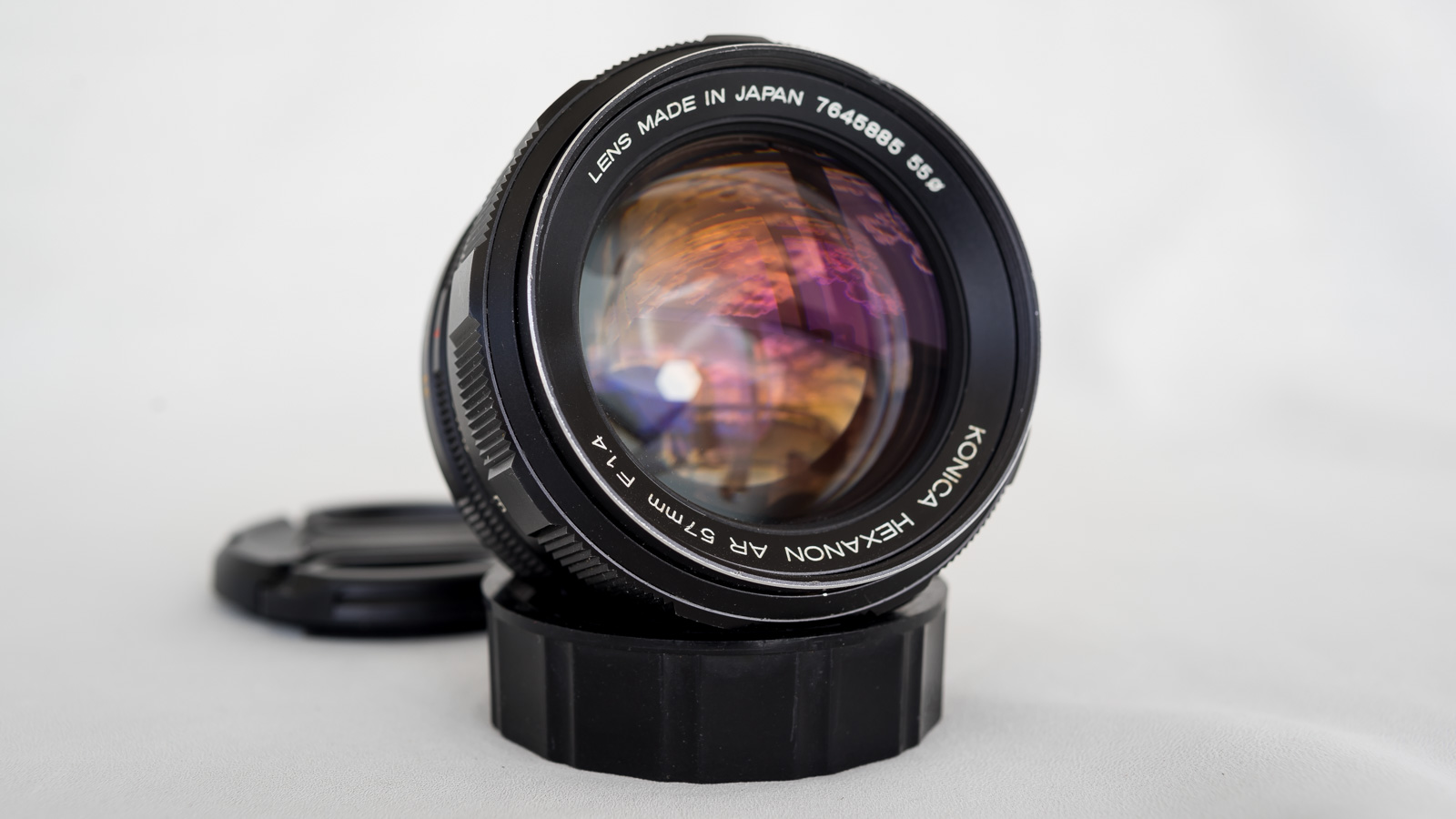 This is the second, Yellow "EE" version from the Konica AR prime standard lenses. This copy at 57mm has the more advanced and superb multi-coated glass from the middle of the series, and is the faster f/1.4 aperture speed. Known for it's sharpness, contrast and color rendering, without distortion and near-zero Chromatic Aberation, it makes for a great 'normal' lens on full frame cameras, and an excellent portrait lens on cropped format sensors. This specific lens has a bit better IQ than others just like it, and I don't think it will disappoint if you're looking for a fast prime in the standard focal length range.
All glass elements are pristine, with no haze or fogging, no fungus, no seperations, no scratches, no chipping, and no other anomolies that would adversley affect your photos. There's minimal wear visible on the outer mechanical surfaces, and both focusing and aperture adjustments are smooth and effortless. F-Stops are available in 1/2 stop detents for accurate exposure calculation.
NOTE: Although this lens was designed for film body cameras using Konica's AR mount, it currently has enough oil on a couple of the iris blades to be sluggish for film use, as auto-activation of the blades is too slow 'at speed' - but - with simple cleaning, it would also be fully operational as a film lens. It is still functional on film bodies if used in preset/stop-down mode, but that won't be an issue when used as an adapted lens for digital use with an appropriate mount adapter.
Sample Photos...
All the sample photos were taken 9/17/2020 on a Sony A7R in Standard color mode, and exported from Adobe Lightroom v5.7.1 with only noise reduction and image size adjustments applied. No additional adjustments were made, and raw AWR files are available if you'd prefer to examine the lens's performance for yourself.
You will receive the Konica AR 57mm f/1.4 lens, with generic front and rear caps. It is being sold in AS-IS condition and you will receive everything as-pictured and as-described, with no other items included.
The lens was used and tested on Sony mirrorless full frame and APS-C bodies with a generic AR to E-Mount adapter, and natively on multiple Konica AR-Mount bodies to confirm mechanical operations. This lens has not been 'film tested'.
NOTE: Given the current public health circumstances, I will only ship this item in USPS 'Click-n-Ship' approved packaging for scheduled carrier pickups - and in this case, it's a 7"x7"x6" Priority Mail box, with calculated postage cost.

Availability:

Sold

Price / Bid Open (USD)

$89.00

Sold Price:

$85.00

Item Condition:

Used: Tested/Digital

Cosmetic:

Excellent

Optical:

No Optical Defects

Mechanical:

Minor Mechanical Issues

Electrical:

[N/A]

Purchase By:

eBay - Buy It Now, or Best Offer

Buy / Bid Link:
---