Konica Hexanon AR 24mm f/2.8 AE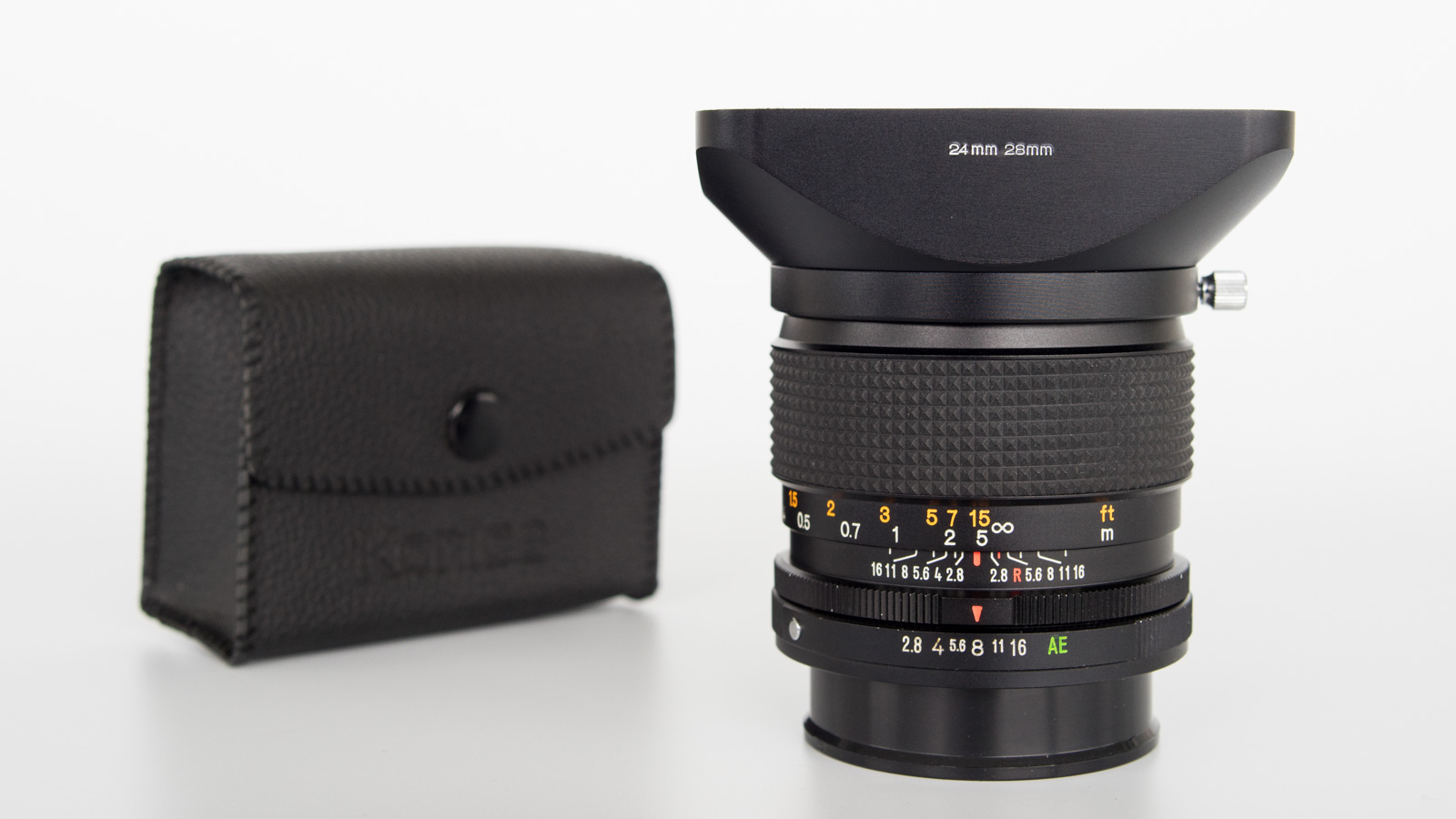 This is Konica's 24mm f/2.8 wide angle lens in AR Mount, with the improved coatings offered in the Green AE version. The lens is in near mint condition overall, and functions perfectly - both mechanically and optically.
The body barely shows signs of use, and optically it has no haze, no fungus, no separation, and no scratches or coating issues or other anomalies. There is a minimal amount of dust present, but nothing to affect your photos.
The lens focuses smoothly and is mechanically functional in every respect and allows for full aperture control for both auto and manual mode use, on oil-free blades. The included hood is the later all black version, and comes with its original OEM case. This lens will operate on any Konica AR mount body, or will also work equally well on many digital bodies with an appropriate adapter.
You will receive the 28mm Hexanon lens, with a generic front and an OEM rear cap, an OEM 24mm/28mm Hood and a matching OEM case; as-pictured and as-described, with no other items included.
Sample Photos
The test photos shown here were shot on a Sony A7R full frame digital camera using a generic AR 'dumb' adapter on an overcast and drizly June 29th 2021 afternoon. All shots were taken at f/5.6, and were rendered in Lightroom v.5.7.1. There is no sharpening applied to any sample, with no post processing other than basic noise reduction on the 2 color photos, and standard processing on the 3rd to simulate a vintage B&W photo.
This lens has been sampled in a casual full frame comparison to a Yashica ML 24mm f/2.8 and a Zeiss Distagon T* 28mm f/2.8. A link to the online gallery with those results:
https://testbed.lumiworx.com/#16249101481761
.
The lens has been tested and used separately on Sony full-frame and APS-C mirrorless bodies for digital use, and on multiple AR Mount bodies to confirm full mechanical operations, but has not been 'film tested'.
NOTE: Given the current public health circumstances, I will only ship this item in 'Click-n-Ship' approved packaging with scheduled USPS carrier pickups. In this case, it will be a USPS 6" x 6" x 7" Priority Mail box, with calculated shipping cost to your address, and insured for the full purchase price.
Availability:

Sold

or BIN Price

$249.00

Sold Price:

$249.00

Item Condition:

Used: Tested/Digital

Cosmetic:

Mint

Optical:

No Optical Defects

Mechanical:

Full Mechanical Functions

Electrical:

[N/A]

Purchase By:

eBay - Buy It Now, or Best Offer

Listing Date/Time

Jul 25, 2021 - 11:00pm PDT

Buy / Bid Link:
---