Konica AR 100mm f/2.8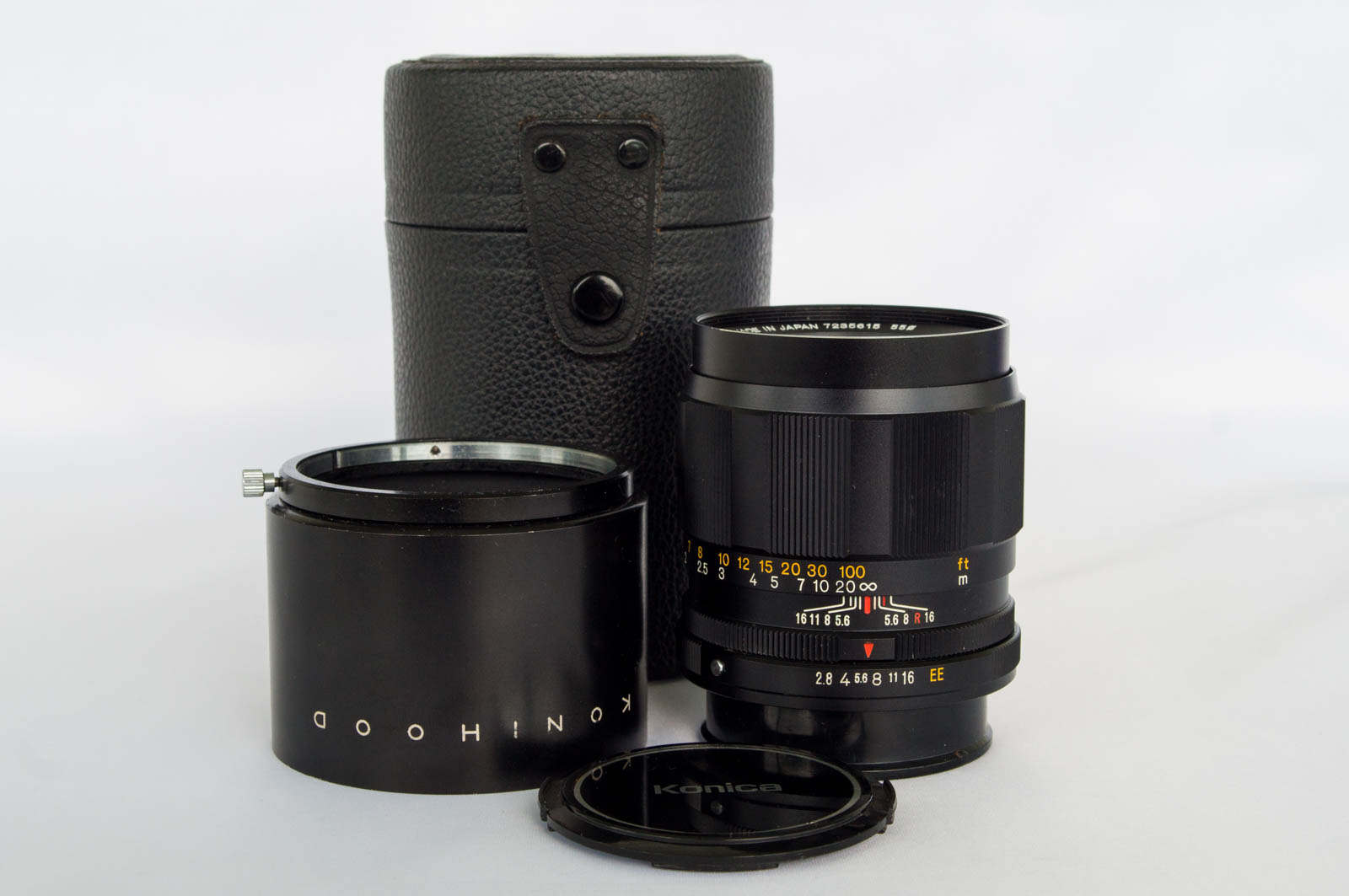 This is a fast and rare-ish 100mm Konica AR f/2.8 telephoto that falls at the shorter end of the range. It is in excellent condition, with superb optics and fully functioning mechanicals. This lens is the middle 'Yellow EE' version, with multi-coatings. It's ready to use on all AR mount film bodies - or - for adapting to digital use with a proper adapter. A previous owner's initials are engraved on the barrel in small letters, but there are no dings or bruises to affect handling, operability, or image quality.
The lens comes with it's original black plastic clip-on front cap, original rear cap, and its original leather case. The hood provided is an appropriately sized 57mm clamp-on "Konihood". Although this hood is not the original model spec'd for this lens, it is in excellent condition, will clamp on firmly, and can be stored in the case with the lens. NOTE: When stored internally, the hood's clamp screw protrudes enough that the snap closure on the case won't engage without stretching the tab, but it is well-secured by friction when closed.
You will receive the lens and its accessories, as pictured and as-described, with no other items included.

Tested on Sony mirrorless bodies in aperture priority mode as an adapted manual lens (w/ generic AR-NEX adapter). It was also tested on Konica AutoReflex T2/T3/T4 film bodies to confirm full mechanical operations only; but has not been 'film tested'.
Availability:

Sold

or BIN Price

$169.00

Sold Price:

$169.00

Item Condition:

Used: Tested/Digital

Cosmetic:

Excellent

Optical:

No Optical Defects

Mechanical:

Full Mechanical Functions

Electrical:

[N/A]

Purchase By:

eBay - Buy It Now

Listing Date/Time

May 24, 2019 - 5:40pm PDT

Buy / Bid Link:
---