F.E.D. 2b w/ Industar 61LD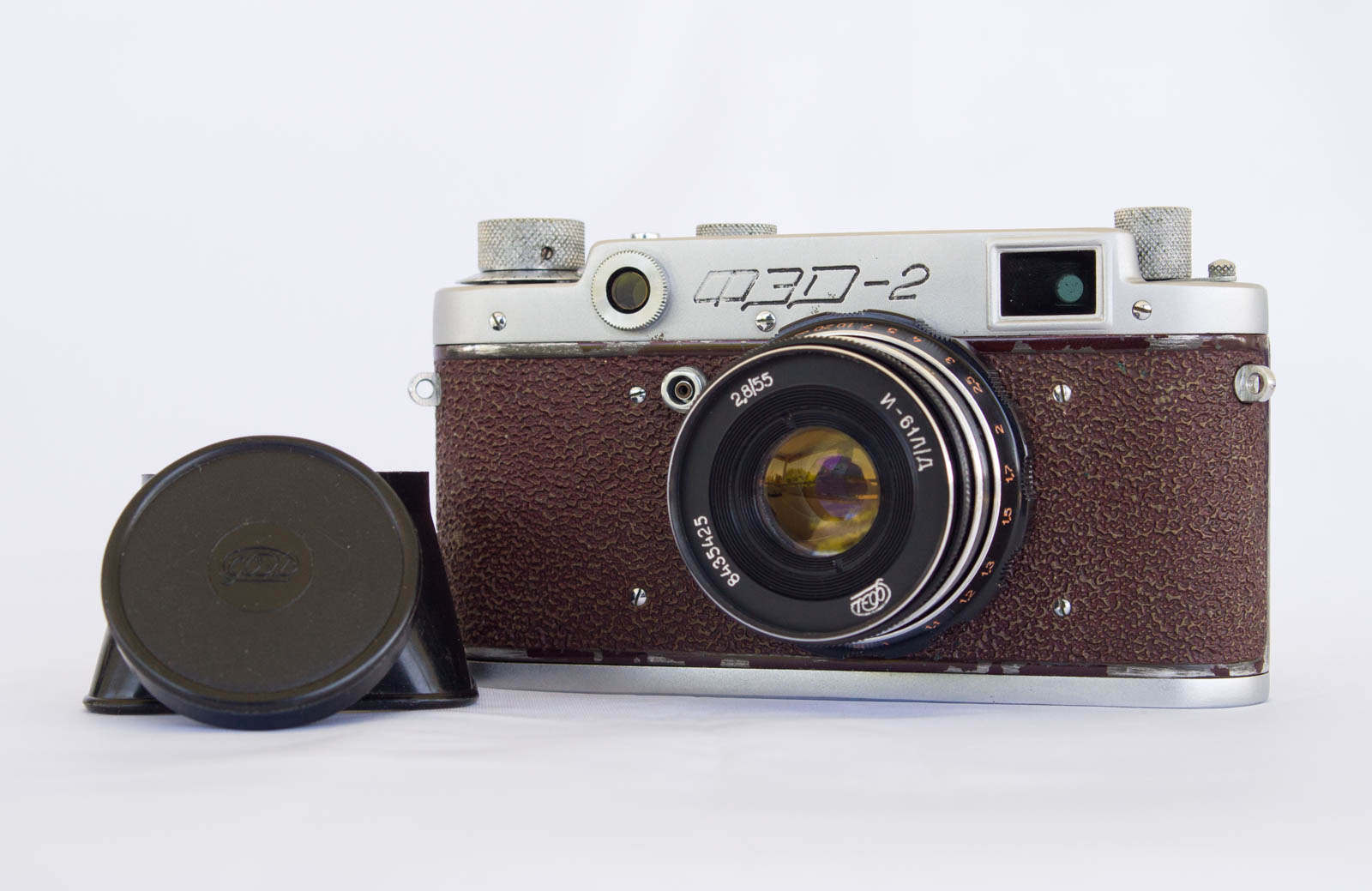 A 1956-1958 model of a Soviet F.E.D. 2b, w/ Industar 61 L/D (Radioactive Lanthanum) 55mm f/2.8 lens and its rectangular plastic hood. The Fed body was built as a clone to the early II and III series Leica rangefinders, with a nearly identical layout and control setup. Overall it's in good condition, with moderate wear and some paint loss on the camera body, but with fully functioning mechanicals and optical rangefinder.
The optical rangefinder on the body has been 'dialed in' to a very close proximity match to the infinity distance, in order to calibrate this particular body and lens pairing by using a ground-glass plate on the film plane. It has not been adjusted on an optical bench for 100% accuracy. The shutter speeds sound reasonably accurate at all settings, and the PC sync fires appropriately when the shutter is triggered.
Everything operates smoothly, and is fully functional. Neither the lens or rangefinder optical elements have haze, fungus, separation, or other anomalies. The lens focus is smooth, with full aperture control of the oil-less blades. This lens would operate on any LTM 39mm screw mount body once calibrated, or it would work equally well on digital bodies with an appropriate adapter.
You will receive the camera body and an appropriate film spool, the lens, it's original plastic hood, and both a generic front body cap and a rear lens cap - plus a Cyrillic "Fed" branded front lens cap. You will receive everything as-pictured and as-described, with no other items included.

The Industar 61 L/D lens was tested separately on Sony mirrorless bodies for digital use, and on the included body to confirm full mechanical operations. Neither the body or lens has been 'film tested'.
Availability:

Sold

Price / Bid Open (USD)

$99.00

Sold Price:

Best Offer Accepted

Item Condition:

Used: Tested/Digital

Cosmetic:

Good

Optical:

No Optical Defects

Mechanical:

Full Mechanical Functions

Electrical:

[N/A]

Purchase By:

eBay - Buy It Now, or Best Offer

Listing Date/Time

May 24, 2019 - 5:20pm PDT

Buy / Bid Link:
---