Canon Pellix and FL Lens Super Set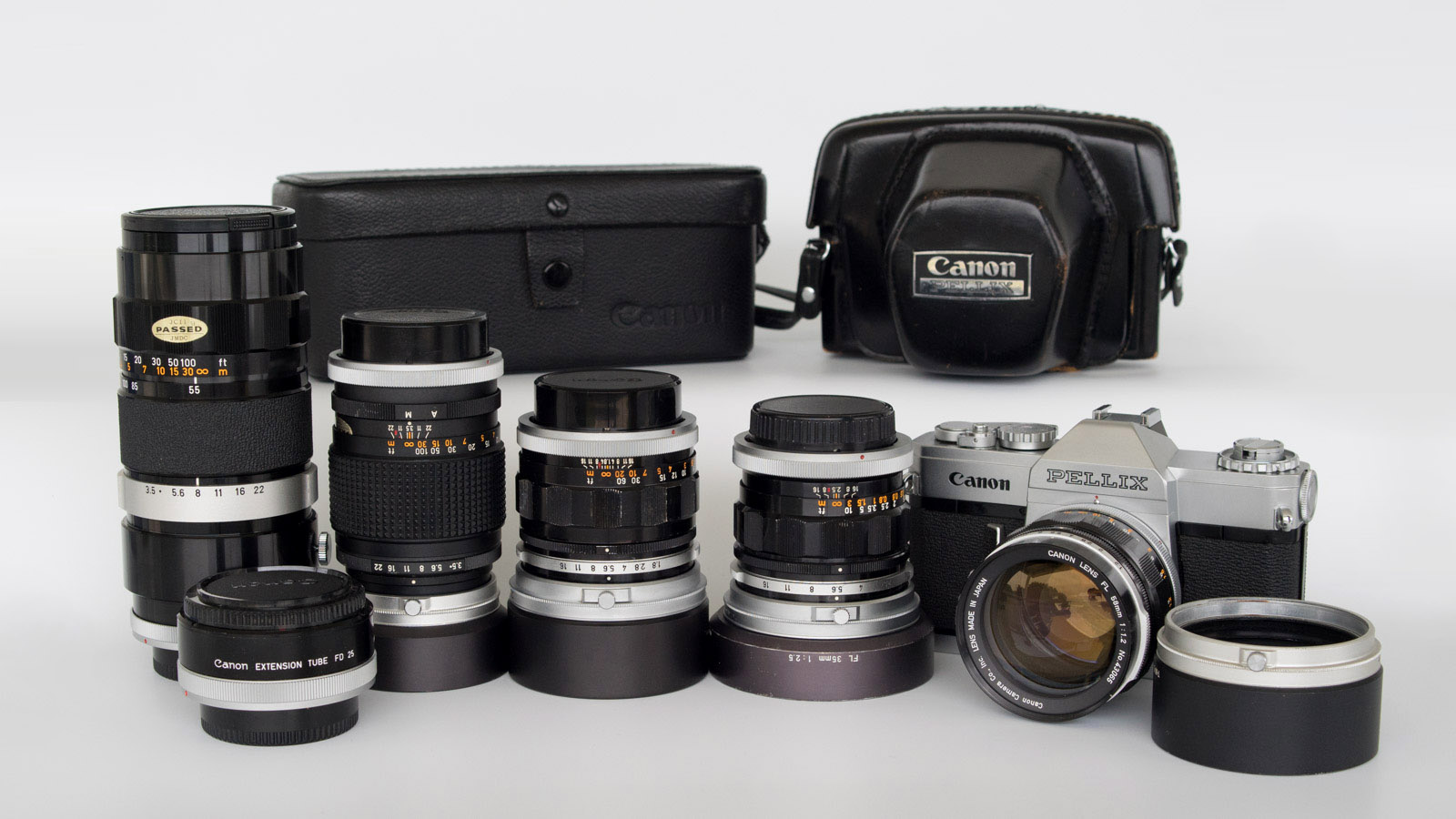 This listing includes a superior set of photo gear, including a 1965-ish Canon Pellix film body and a very fast compliment of five (5) FL Lenses, with most items in near-mint condition. The lenses include the best Canon had to offer at the time of their release across each category represented. Every piece is fully functional, and every optic is simply flawless. The 85mm f/1.8 Portrait lens has undergone a recent CLA, and all lenses are well matched to each other in color rendering, contrast, and in operational 'feel'. No items have any type of major surface flaws, and show very little use overall. Every lens has it's appropriate OEM hood included, with the exception of the 55-135mm Zoom.
The body shows minimal use, with only one bit of finish loss from a scratch on the latch wheel for the film door. The shutter speeds sound reasonably accurate at all settings, and the PC sync fires appropriately when the shutter is triggered. The film and battery compartments are spotless on the inside, and release/unscrew properly for use. Everything operates smoothly, and is fully functional *.
None of the lenses or the viewfinder of the camera have optical elements that contain haze, fungus, separation, or have any scratches or coating issues or other anomalies. There is a very minimal amount of dust present, but this will not affect your photos. Every lens focuses smoothly and are all mechanically functional in every respect and allow for full aperture control, on oil-free blades. These lenses will operate on any FL/FD mount body, or they would work equally well on digital bodies with an appropriate adapter.
Please note that both the 85mm f/1.8 and the 58mm f/1.2 lenses contain glass elements using trace amounts of radioactive material in their composition that can 'yellow' the glass over time. It can successfully be returned to a clear state with exposure to direct sunlight over several days. I have not attempted to 'clear' them, as some users prefer the coloration they render when it's present, so I've left that choice up to you.
| | | | |
| --- | --- | --- | --- |
| Item | Condition | Item | Condition |
| Canon Pellix Film Body | Near Mint | Canon Pellix & Zoom Cases | Excellent |
| Canon FL 35mm f/2.5 | Near Mint | Canon FL 135mm f/3.5 | Excellent |
| Canon FL 58mm f/1.2 | Near Mint | Canon FL 55-135mm f/3.5 | Mint |
| Canon FL 85mm f/1.8 | Excellent | Canon FD Extension Tube 25 | Near Mint |
You will receive the camera body and a front cover, the five (5) described lenses and their four (4) OEM Hoods, w/ front and rear caps (generic or OEM) for all lenses, and the extension tube and it's covers. Also included are the pictured leather everready camera case and the leather flip-top zoom case, and an original leatherette case for the extension tube (not pictured). You will receive everything in this listing, as-pictured and as-described, with no other items included.
If you choose to purchase this set at it's "Buy It Now Price", I will additionally include a generic Canon FL/FD to Sony E-Mount adapter that I've modified to allow any preset FL lens to be adapted on digital full-frame ('AR') or APS-C ('NEX/Alpha') bodies, without the interference issues produced by the 'stepped' rear housings on some FL lenses.

All lenses have been tested and used separately on Sony full-frame and APS-C mirrorless bodies for digital use, and on the included body to confirm full mechanical operations of all included items, but the body or lenses have not been 'film tested' nor are they offered here as 100% accurate for any measured functionalities. *Metering and battery accomodations are required, as the Mercury cell used in the Pellix is no longer manufactured.
Availability:

Sold

Price / Bid Open (USD)

$499.00

or BIN Price

$679.00

Sold Price:

$679.00

Item Condition:

Used: Tested/Digital

Cosmetic:

Near-Mint

Optical:

No Optical Defects

Mechanical:

Full Mechanical Functions

Electrical:

[N/A]

User Manual/Specs:

Purchase By:

eBay - Auction

Listing Date/Time

July 21, 2020 - 4:30pm PDT

Buy / Bid Link:
---