Canon New F1, w/ AE winder & 3 lenses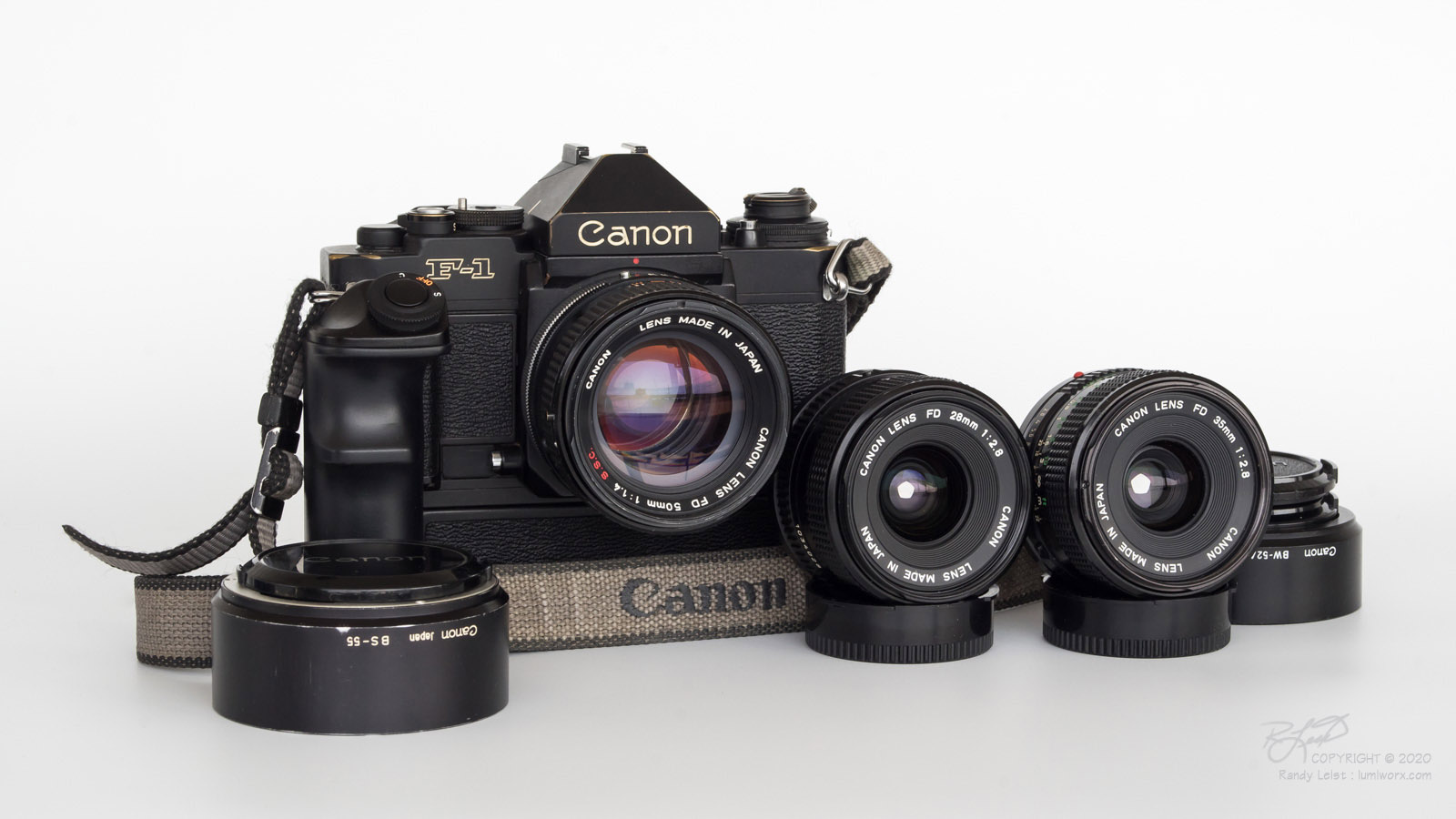 This kit includes a Canon New F-1 film body, with attached AE Viewfinder and AE Winder, and three (3) Canon lenses - an FD 50mm f/1.4 SSC, an nFD 28mm f2/8, and an nFD 35mm f/2.8. Additional accessories include two (2) bayonet mount hoods - a metal BS-55 for the 50mm, and a polycarbonate BW-52A for the 35mm, an OEM Canon branded strap and black leather hard case, plus OEM front caps for each lens, and generic rear lens and body caps.
This flagship pro camera from the 1980's was owned and used by a newspaper photographer from the State of New York, and shows the body edge and film advance lever brassing expected from professional use. Most newsrooms in the film era kept photo gear in top shape under maintainance contracts, and everything included here seems to have been just as well cared for, and is fully functional.
The included hardshell gear case is in very good condition, but it is missing it's original rectangular divider and any keys for the clasp lock. It has been modified with heavy duty metal D-Rings to accept the included 2" wide all-black cotton 'Hippies' shoulder strap as a replacement to the thin vinyl original that looped-through and under the case. Otherwise it is solid, clean, and odor free.
Mechanicals:
These cameras were built like a tank, but meant to work smoothly and with precision. It still does, and without undo effort or surprises. Both the viewfinder and winder offer positive locks and unlocks, and all other mechanical controls are working as intended. Lenses operate smoothly for focusing, and catch lightly in aperture adjustments, on oil-free blades.
Electrical/Electronic:
There are no issues with metering or metering modes, and values appear to be reasonably accurate in matching to both my digital gear and hand-held Sekonic and DigiSix meters. Viewfinder displays are complete and bright, and responsive with all lens and exposure value changes. All battery compartments and carriers are spotless and easily accessable. Single and burst mode firing is working well, and all secondary controls on the winder are functioing. I'll send along an LR44 battery for meter use and testing, and a fresh one as a spare.
Opticals:
Every piece of glass is flawless - both on the body, and in each element in every lens. There is no haze, no fungus, no seperation, no coating issues, no nicks/cracks/abrasions or any other anomoly that would affect your photos or your visibility during their use. The finder's prism, and the body's focus screen and mirror are equally clean and clear, with very minor dust in the prism.
Operations:
Every operative function is working as intended. If you'd like to know what they are in detail, I'll be happy to provide a link to an online user manual that you can review and/or download.
You will receive the camera body and a generic body cap, the three (3) described lenses, the three (3) approriate OEM front caps, the two (2) OEM hoods and generic rear lens caps on all lenses. Additional items included are the OEM labeled grey camera strap and black leather hardshell kit' case and strap. You will receive everything as-pictured and as-described, with no other items included.

The lenses were used and tested on Sony mirrorless full frame and APS-C bodies for adapted digital use, and on multiple Canon FD/FL mount bodies to confirm full mechanical operations. Neither the lenses and/or body has been 'film tested', nor any control values tested or guaranteed for accuracy.
It should be noted that the covers/caps for the Winder's drive access holes are not included. They aren't required when the winder is attached, and it's use is optional, as the camera can still be cocked and fired without any winder batteries loaded or enabled.
Please review any/all additional photos below, as they also represent the listed item's decription.
NOTE: Given the current public health circumstances, I will only ship this item in USPS 'Click-n-Ship' approved packaging for scheduled carrier pickups.
Availability:

Prepping Ad

Price / Bid Open (USD)

$379.00

or BIN Price

$489.00

Item Condition:

Used: Tested/Digital

Cosmetic:

Excellent

Optical:

No Optical Defects

Mechanical:

Full Mechanical Functions

Electrical:

No Electrical Issues

User Manual/Specs:

Purchase By:

eBay - Auction or BIN
---