Canon A-1 w/ 50mm f/1.4, Winder MA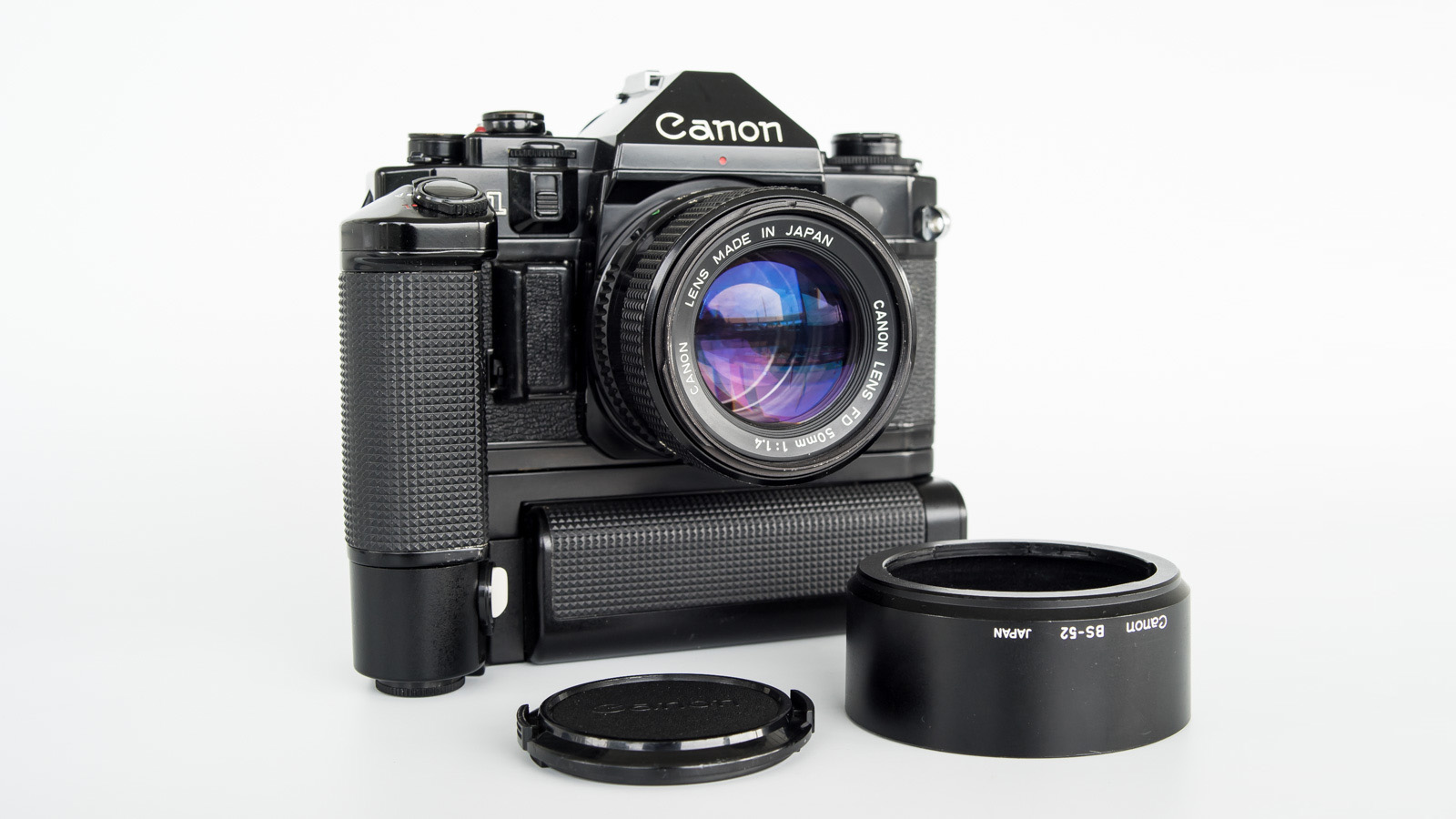 This is Canon's 'pro-sumer' model that represented the top of the line camera in the A Series introduced in 1978. All the mechanicals and electronics are functional, and the body, winder, and lens are in excellent to near mint condition overall and show minimal signs of use.
The shutter speeds sound reasonably accurate at all settings to my ears, and the PC sync fires appropriately when the shutter is triggered - as does the self timer. The film and battery compartments are clean and clear, and release properly for use. Everything operates smoothly, and the camera, lens, and winder are functional **.
The viewfinder and mirror are clear with minimal dust, and will certainly have no effect on overall functionality or the quality of your photos. MThe mtering and exposure data display is bright and legible.
The 50mm lens is the faster f/1.4 kit lens in the later 'New' FD (nFD) mount style, and all glass elements are clear of any anomalies, have no fungus, no haze, no separation, and very minimal dust that will have no affect on your images. The aperture clicks lightly into place on 8 curved and oil-free blades, and focusing is smooth and continuous. The BS-52 lens hood is in excellent condition, and has been refurbished with new silicone stops to keep it securely in place during use or when reversed for storage.
The OEM Canon Winder MA and it's Battery Pack MA are in excellent condition, and will accept 12 AA batteries for single or continuous frame shooting modes. It operates with Alkaline, standard Lithium, or rechargeable Lithium-Ion batteries. All additional grip triggers, switches, and locks are fully functional.
The infamous 'Canon Squeal' noise prevalent on A Series cameras is slightly audible on occasion, but does not currently affect advancing the film or hinder the shutter in any way. Repair guides are online for help with lubrication instructions.
You will receive the pictured and described camera body with nFD 50mm f/1.4 lens , Canon Winder MA, Battery Pack MA, and an OEM front lens cap and lens hood, OEM rubber eyecup, plus miscellaneous covers and caps; all as-pictured and as-described, with no other accessory items included - however - I will send along a 4LR44 alkaline battery for powering the meter.
**NOTES ON FUNCTIONALITY: Fundamental testing was done on the body, lens, and winder to confirm mechanical and electrical operations on multiple Canon FD Mount film bodies. The lens was used and tested on crop and full frame Sony mirrorless bodies for digital operation, but the body and winder and/or the lens have not been 'film tested' nor are they offered or warranted to be 100% accurate for any measured operations or functionalities due to age and/or modern battery limitations. If your intent is to use the camera with film, it may require new light seals at some point to perform at it's best. Seal kits are cheap and easy for anyone to replace on their own, and without the need for special tools.
NOTE: Given the current public health circumstances, I will only ship this item in 'Click-n-Ship' approved packaging with scheduled USPS carrier pickups. In this case, it will be a USPS Medium Flat Rate Priority Mail box, with fixed shipping cost to your address, and insured for the full purchase price.
Availability:

Sold

or BIN Price

$299.00

Sold Price:

$299.00

Item Condition:

Used: Tested/Digital

Cosmetic:

Excellent

Optical:

No Optical Defects

Mechanical:

Full Mechanical Functions

Electrical:

Full Electrical Functions

User Manual/Specs:

Purchase By:

Etsy.com - For Sale

Listing Date/Time

Oct 02, 2021 - 7:45pm EDT

Buy / Bid Link:
---