Brass Rapid Rectilinear - 10", f/8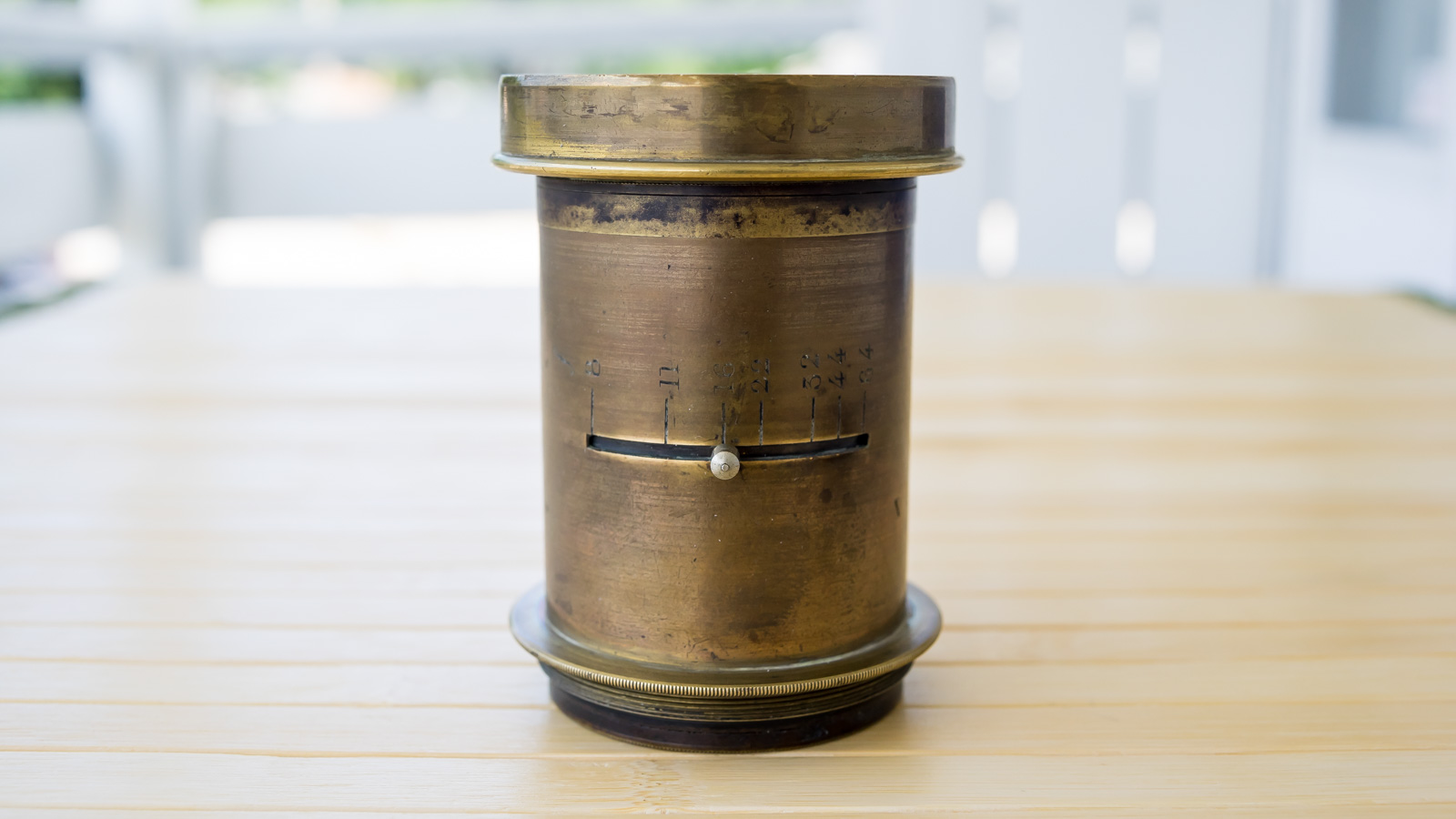 This is a large format brass barrel lens that I assume is from the early 1900's, and matches the general description of a rapid rectilinear lens type. It uses an f/stop measurement scale for aperture, with an adjustable 12 blade iris, using a mid-body adjustment post. It should be noted that the lens will not include a retaining ring. Depending on inner or outer measurement, the thread has a diameter of 53 or 53.3mm. Other lens body measurements and weight... overall length: 84mm, length from flange-base to rim: 74.6mm, outer diameter at front lens rim: 60mm, raw weight: 11.59oz. / 328.6g.
The lens has not been tested beyond the manual manipulation of the lens itself. As for condition, both cosmetically and optically...
The lens has obvious signs of use, and there are no dents, dings, or deep gouges, but there are some surface scratches and minor finish oxidation as-expected for a 100+ year old lens; though none of these affect the mechanical functioning of the lens or diphragm. There are 12 oil-free curved blades to control the stepless aperture from the adjustment post. The f-stop scale is marked with 8, 11, 16, 22, 32, 44, and 64 stop values. Any blackened surfaces are chemically treated for color and are not painted black. There are no makers markings or any names or inscriptions beyond the deeply carved f-stop scale, but it is apparent that this is certainly not a DIY one-off lens, in judging the quality of the components and the workmanship of the fittings and fitment.
There are no chips or bubbles in the glass elements, and the elements contain no fungus or haze, with no surface scratches or cleaning marks. There's a small section of the front group where there's some seepage of the balsam glue at the edge of the inner lens, but it does not oclude far enough into the light path to cause an issue. There are some slightly darker areas in the glass itself that are difficult to see unless viewed in very bright light. Under 8x magnification, they exhibit no signs of being related to old fungus tentacles or spores, and don't seem to be something that will affect photos, but they are unknown anomolies that may just be representative of any lens of this age, composition, and design. They are noted here to avoid any surprises when you receive the lens.
For  mechanical condition... All lens groups are in threaded 'tool-less' cells and are easily removable with a hand-tightened fit. The iris adjustment rod is slightly on the firm side for movement, but it is clean and grease free, and fully adjustable throughout all stops.
I do not have a large format camera or any other means of confirming focus or sharpness beyond what's viewable when measuring the lens's registration distance, as 10 inches. This was measured from the rear lens flange of the assembled lens, to the 'in-focus' image on a white wall. It was clear and sharp enough to sufficiently measure to the focal plane.
The lens does not include either front or rear caps, or a threaded retaining ring, but it will be well packed to safely protect the glass elements and flange threads for travel and delivery. The lens, as pictured and described, includes no other items or accessories.
Availability:

Sold

Price / Bid Open (USD)

$129.00

Sold Price:

$129.00

Item Condition:

Used: Untested

Cosmetic:

Good

Optical:

Minor Optical Defects

Mechanical:

Full Mechanical Functions

Electrical:

[N/A]

Purchase By:

eBay - Buy It Now, or Best Offer

Listing Date/Time

July 10, 2020 - 5:00pm PDT

Buy / Bid Link:
---